For the Celebration of World Falun Dafa Day: A Brief History of Falun Dafa's Growth in Mid-Taiwan (Photos)
May 17, 2010 | By Hsia Chun
(Clearwisdom.net) Master Li gave a lecture in Taiwan in November 1997, and since then, Falun Gong has spread quickly via word of mouth, with new practitioners coming from all walks of life.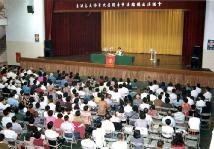 Master Li gave a lecture in Taichung in November 1997
Practice sites in Taichung were setup one after another. Along with the increase of the number of practitioners, more sites were set up. Currently, there are more than one thousand practice sites in Taiwan.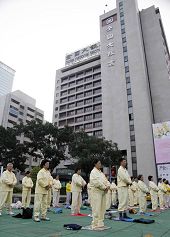 Practice site in front of the National Hotel in Taichung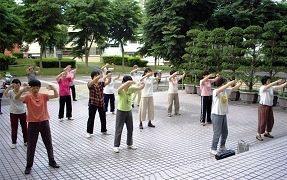 Practice site near the Fengyuan City Government building, Taichung County
Since there is no organization or registration of Falun Gong practitioners, the exact number of practitioners is not known. But from different evidence, more and more people are practicing Falun Gong. The practice of Falun Gong in Taiwan developed in the following ways. First, practitioners set up practice sites in parks or schools near their homes, then more local residents join the practice.


Banner reading "Falun Dafa is good" outside Yichun Bookstore
Second, Master Li authorized the Yichun Bookstore to sell his books. Information about practice sites can be found in the books, and readers who want to learn can find the local practice sites. The bookstore owner Liu Ying-fu recalled, "After the publication of Zhuan Falun and other Dafa books, sales increased straight up."
Third, the Chinese Communist Party's (CCP) persecution of Falun Gong caught the attention of many people. They inquired about Falun Gong and many of them started to learn. Practitioner Pan recalled that she saw many new practitioners in a cultivation experience sharing conference in Taichung after the persecution began in 1999.
Teaching Falun Gong in schools
Falun Gong practitioners also held Falun Gong study camps with the assistance of government officials. The first study camp held at the end of January 2001 was sponsored by the Changhua County government and assisted by the Shetou Primary School. After that, many sessions of teacher study camps were held in each county and city during winter and summer breaks. Many principals, teachers, and their family members joined the practice. They also brought Falun Gong to schools and encouraged students to practice it. Many Falun Gong clubs were set up in schools.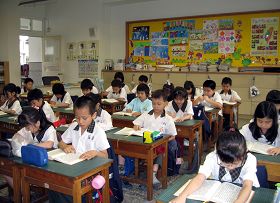 Students in Taiping Primary School, Taichung read Zhuan Falun during free-study session in the morning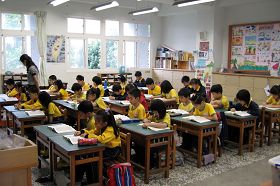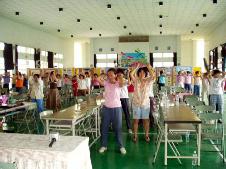 Teacher study camp in Fengtian Primary School, Taichung, in August 2004

Teacher study camp in Beigan, Yunlin County, on January 23, 2002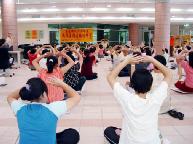 Teacher study camp in Chiayi Primary School from July 14 to 24, 2003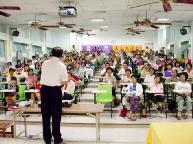 Teacher study camp in Dongning Primary School, Pingdong on July 5, 2004
During school celebrations, exercise demonstrations by students are part of the program.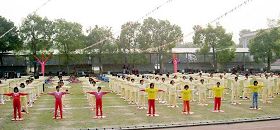 Principal Hsu of Gukong Primary School, Yunlin County, recommended Falun Gong to teachers, students and student's parents during a school celebration on March 13 and 14, 2004 after he himself had benefited from practicing Falun Gong.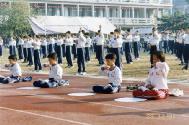 Falun Gong exercise demonstration by more than 300 fifth-grade students at a school in Pingdong during their 78th annual sports games.

On April 14, 2007, Falun Gong practitioners were invited to demonstrate the exercises in the opening ceremony of the Chiabei Primary School Sports Games, Chiyi, Taiwan.
Introducing Falun Gong at Sun Moon Lake
After the CCP initiated the persecution of Falun Gong in 1999, practitioners in Mid-Taiwan volunteered to introduce Falun Gong and explain the facts to tourists from China at scenic sites near Sun Moon Lake.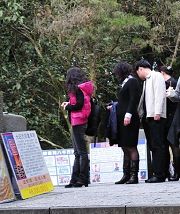 Tourists from China view posterboards with Falun Gong information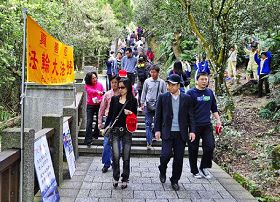 Falun Gong posterboards, banners and informational materials near a temple at Sun Moon Lake.
Many tourists from China took photos or video footage after seeing the banners and posterboards. They read the information on the posters carefully and talked about the persecution. Some practitioners gave them copies of the Nine Commentaries on the Communist Party and exposed the facts of the persecution. Practitioner Ms. Liao mentioned that Chinese tourists readily listen to her explanations. She talks to the tourists and asks them to quit the CCP and its affiliated organizations. Many visitors from China have announced their withdrawals on the spot.