New York: Falun Gong Practitioners Celebrate the 11th World Falun Dafa Day (Photos)
(Clearwisdom.net) On May 9, hundreds of Falun Gong practitioners from New York gathered at Union Square, Manhattan, to celebrate the 11th World Falun Dafa Day. Practitioners conducted group exercises in the morning, and performed dances and songs in the afternoon.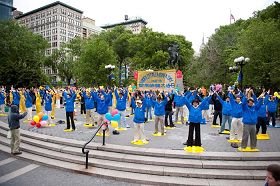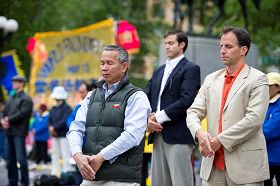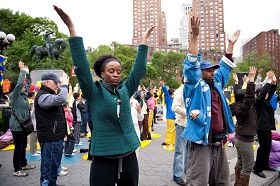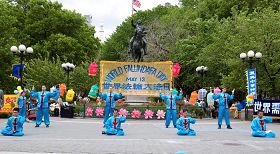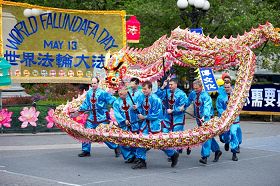 Dragon dance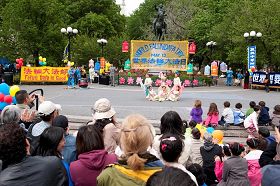 Traditional Chinese dance
Carolyn B. Maloney, a congresswoman from New York, sent a greeting to practitioners, in which she expressed her support for Falun Gong practitioners' peaceful resistance to the persecution.
The Divine Land Marching Band
In the afternoon, the Divine Land Marching Band initiated the performances. They played four songs and were warmly welcomed by the spectators.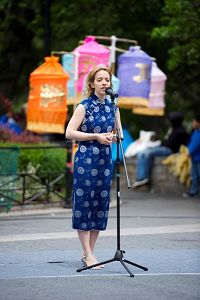 Sara Effner sings "Be Saved."
Sara Effner, a Western practitioner, performed the song "Be Saved." Sara went to China to appeal for Falun Gong in 2002. She was arrested and sent to a detention center. On the police bus, Sara sang this song, and all the policemen were moved. One policeman even cried.
Eight-year old Aaron played the song "Lotus Flower" on the keyboard. His grandfather, Prof. Zhang Xingwu, has been persecuted in China for eight years because he practices Falun Gong. Prof. Zhang is still imprisoned in China.
Practitioners performed traditional Chinese dances, instrumentals, songs, martial arts, and dragon and lion dances. They also demonstrated the exercises. The performances ended at 4 p.m. Practitioners took a group photo, and wished Master Li a Happy Birthday.
Many Chinese people stopped to watch the event. Mr. Wang, a student from Columbia University, expressed that many Chinese people don't want to talk about Falun Gong, and this is not because they don't want to know what Falun Gong is, but because they don't want to get into trouble with the Chinese government. Mr. Wang said: "It is relatively easy to be truthful and compassionate, but it is really hard to forbear. Falun Gong practitioners are peaceful, and they can forbear." Mr. Wang said he saw Falun Gong practitioners' events very often, and he thinks that practitioners are very tolerant and peaceful.
Mr. and Ms. Lin came to New York to visit their daughter. They had just arrived last week. They were amazed to see Falun Gong here. They have a neighbor in China who practices Falun Gong and who often told them the truth about Falun Gong.
Ms. Chen from Canada said she knows Falun Gong well because she often sees practitioners' events in Canada. She immigrated to Canada with her parents when she was three. She doesn't understand why Falun Gong is persecuted. "Why can't the government give them freedom?" she asked, "It is hard for people living in a free country to imagine the persecution."