Washington D.C.: Falun Gong Practitioners Celebrate Falun Dafa Day (Photos)
(Clearwisdom.net) On May 9, Falun Gong practitioners from Washington D.C. held activities in front of the Capitol to celebrate World Falun Dafa Day and express their appreciation to Master Li Hongzhi.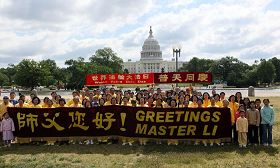 Practitioners wish Master Li Hongzhi a happy birthday.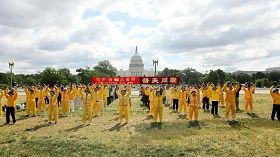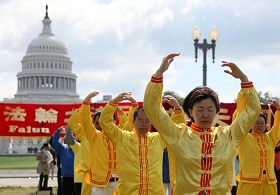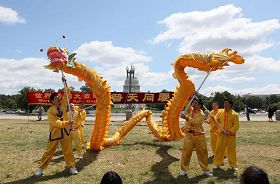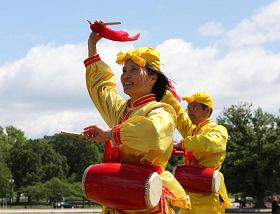 The activities started at 7 am. Practitioners demonstrated the exercises and performed traditional Chinese dances, waist drums, and dragon dances.
Many practitioners said they have benefited from practicing Falun Gong, which improves their physical and mental health. They all expressed their appreciation to Master Li.
Ms. Zhang, a researcher at National Institute of Health (NIH), said that both she and her husband experienced dramatic health improvements from practicing Falun Gong. She said: "Master's mercy is boundless."
Many tourists, including some Chinese people, stopped to watch the performances. They took materials about the practice and the persecution in China, and expressed their support.
Falun Gong books have been translated to into more than 30 languages. Practitioners all over the world have received more than 1500 proclamations. Two hundred thirty-four resolutions of support have been passed by various governments around the world. Falun Gong is now practiced in over 100 countries.