Kaohsiung, Taiwan: Practitioners Celebrate World Falun Dafa Day (Photos)
May 11, 2010 | By Sun Bo and Su Rong
(Clearwisdom.net) On May 8, 2010, Falun Gong practitioners gathered near Sizihwan Bay and Lotus Lake to celebrate World Falun Dafa Day, May 13, which is also the birthday of the founder of Falun Dafa, Master Li Hongzhi.


Falun Gong practitioners celebrate World Falun Dafa Day on May 8, 2010 at a tourist spot Sizihwan in southern Kaohsiung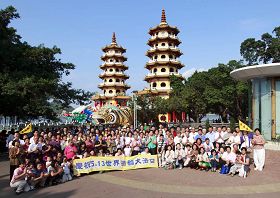 Falun Gong practitioners gather near Lotus Lake in northern Kaohsiung and wish founder Master Li Hongzhi a happy birthday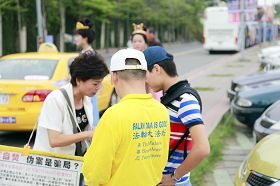 A practitioner talks to tourists from China about the persecution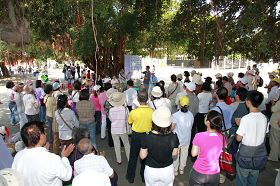 Below the banyan tree near Lotus Lake, practitioners hold games to invite participation from bystanders
Bus after bus of tourists from China stop at Sizihwan. It is located next to Kaohsiung Harbor and by a mountain where the British Consulate at Takao, a second class historic relic, sits. Upon seeing many Falun Gong practitioners freely practice in public, many Chinese tourists are amazed and take pictures.
The celebration also included an exercise demonstration by young practitioners from the Minghui School and a performance by the Divine Land Marching Band and Waist Drum Team. Hundreds of practitioners sang songs together to show their gratefulness to Master Li.
In the afternoon, practitioners held some lighthearted games near Lotus Lake to invite participation from the public. They had free snacks, fruit and drinks and invited bystanders to sing with them. As part of a question and answer game, many tourists answered questions about Falun Dafa and won prizes.