Interview With a U.S. Writer Who Discusses the "April 25, 1999 Appeal" (Photo)
April 24, 2010 | By Kaili
(Clearwisdom.net) Editor's Note: To commemorate the eleventh anniversary of the April 25 Appeal, Clearwisdom presents this as one of a series of republished articles from years past. The April 25th Appeal was notable not only for its size, but also because it was remarkably peaceful and orderly. Some 10,000 practitioners gathered in central Beijing that day, peacefully protesting for their civil rights. The CCP propaganda machine, however, in its quest to crush Falun Gong at the bidding of then Party Chairman Jiang Zemin, twisted the facts to serve its own motives. To this day, CCP propaganda accuses Falun Gong of "laying siege to the Zhongnanhai Central Government Compound" on April 25, 1999, falsely alleging that the 10,000 gathered posed a violent threat to the nation and its leaders. Nothing could be further from the truth, of course, as this series of articles documents from various angles.
On April 25, 1999, more than ten thousand Falun Gong practitioners went to Beijing to peacefully appeal. Several months later, former Chinese Communist Party (CCP) head Jiang, using this event as pretext, began the persecution of Falun Gong. Then one needs to ask: if the "April 25 Appeal" had not happened, would the CCP not have started the persecution of Falun Gong?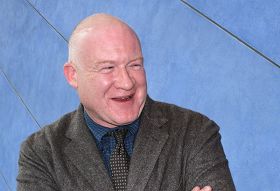 Ethan Gutmann, a U.S. businessman and author of Losing the New China
"No. I believe that the Chinese Communist Party would have commenced the persecution in a different way" commented Mr. Ethan Gutmann, a U.S. businessman and author of Losing the New China affirmatively. He was in Beijing at the time. To learn what had actually happened, he made many investigations.
"Someone told me initially that these people were going to Zhongnanhai (the seat of government, a palace) to protest," Mr. Gutmann indicated. Because this had happened under the CCP's totalitarian regime, the protest would definitely incur suppression. By contrast, laws protect people in Western democratic societies when they protest.
Several days after the April 25 Appeal, Mr. Gutmann conducted additional investigations. He interviewed more than twenty people. He learned that Falun Gong practitioners wanted to go to the Bureau of Letters and Appeals to tell the officials their concerns. The bureau is in the vicinity of Zhongnanhai, the central government compound. The CCP has completely twisted the facts as to what actually happened. "After that day (April 25), I interviewed about twenty-five people and confirmed that those people were really protesting."
Mr. Gutmann believes that the April 25 event was a CCP plot, framing Falun Gong, "I once spoke with a middle-level Chinese government official who was very much in sync with the CCP's actions. He claimed the decision to suppress Falun Gong was made much earlier than the official day the persecution began. So, from this perspective, the 'April 25 Event' is just a pretext. If one has to say Falun Gong practitioners had made some mistake, I would say that they had easily walked into a trap. I believe that people didn't know then it was a trap."
Mr. Gutmann added that he had made many independent investigations and obtained a lot of reliable information. According to his findings, although there are only three thousand confirmed Falun Gong practitioners' deaths due to torture, in fact, the organs of over ten thousand practitioners have been harvested.
Mr. Leeshai Lemish, Mr. Gutmann's colleague, has come to the conclusion that the death toll of Falun Gong practitioners is most likely over ten thousand, the numbers being based on data that the media have reported about Falun Gong. Mr. Gutmann's investigations have also verified - from a different angle - the accuracy of the report entitled "An Independent Investigation into Allegations of Organ Harvesting of Falun Gong Practitioners in China." The report was co-authored by well-known Canadian attorneys David Matas, a renowned human right lawyer, and David Kilgour, former Canadian Secretary of State for Asia-Pacific.
Furthermore, Mr. Gutmann believes that the persecution of Falun Gong practitioners in China is becoming worse. He commented, "What is interesting is that my investigation results are no different from that of Matas and Kilgour. But the methodology I have used was quite different from theirs. They have used relevant information reported by the CCP regime, while what I have used are the actual reports of incidents I have received from Falun Gong practitioners. We have come to similar conclusions. Therefore, I am afraid that the organ harvesting is a very real thing. Thus, the CCP regime does not want me to do these things at all."
Simply because Mr. Gutmann is concerned about the persecution of Falun Gong practitioners, the CCP has refused to grant him a visa [to visit China]. "I was unable to get the visa to China. I believe that my book is not the key reason. It is most likely because I had made speeches during activities organized by Falun Gong practitioners. Another reason is my investigation of the organ harvesting. This is a very sensitive and controversial issue. The CCP doesn't want me to touch this issue at all."
Background: Mr. Ethan Gutmann is a U.S. businessman who published his book Losing the New China in 2006. He delineated in the book that certain U.S. businessmen, to make money in China, have been involved in CCP embezzlement and corruption, and have satisfied the political needs of the totalitarian regime. He also exposed in the book that specific U.S. companies, to occupy the Chinese market, have provided the CCP with highly advanced technologies, which constitutes powerful support of the CCP's control of free speech and access to information.
Source: http://clearwisdom.net/html/articles/2009/4/24/106769.html