Marianas Variety News & Views: Home of the Masterpieces
Friday, April 02 2010
(Clearwisdom.net) The Phoenix Art Gallery in Garapan is the home of a collection of masterpieces by international artists, most notably Falun Gong practitioners.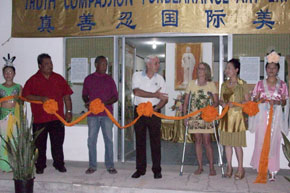 Their artwork depicts how they have been persecuted at the hands of the Chinese government while conveying a message of spiritual discipline based on truthfulness, compassion, and tolerance.
The paintings also express a message of hope in the face of arbitrary detention, torture, and death.
On March 27, the Phoenix Art Gallery opened its fourth Truth-Compassion-Forbearance International Art Exhibition.
A recent addition to the gallery is "Shock," by Xiaoping "Michelle" Chen. It won the 2009 Chinese International Figure Painting competition in New York.
"Shock" depicts a Falun Gong practitioner losing her shackles and rising high in her prison cell as guards look on.
Chen said the art exhibit is very significant in recognizing the beliefs of the Falun Gong, especially now that the U.S. House of Representatives has adopted a resolution expressing solidarity with the victims of the persecution in China and urging the Chinese government to end its campaign against the Falun Gong.
The opening ceremony on Saturday was attended by Office of Insular Affairs Field Representative Jeff Schorr, Commonwealth Council for Arts and Culture Executive Director Angel S. Hocog, author and cultural preservationist Lino Olopai, Federal Labor Ombudsman Pam Brown, attorney Mark Hanson, Saipan Mayor Donald G. Flores, and other members of the community.
"I know she is one of the best artists in the commonwealth," said Schorr.
He said the exhibit will inspire other artists to reach Chen's level.
"It shares the skills of a very gifted person," he added.
Hocog said the exhibit should encourage local artists to further hone their talents.
He commended Chen for her success.
After the opening, Chen said she plans to return to her teaching job and create new paintings.
"I have many ideas and I need more time to make them happen," she added.
http://www.mvariety.com/around-the-island/home-of-the-masterpieces.php