A Seventy-Eight-Year-Old Woman Who Enjoys Hard Work (Photo)
April 17, 2010 | By a Falun Gong Practitioner in Australia
(Clearwisdom.net) Mrs. Zhu, a seventy-eight-year-old Falun Gong practitioner in Melbourne, Australia, has been exposing the persecution of Falun Gong and helping people quit the Chinese Communist Party (CCP) in front to the Chinese Consulate and at tourist spots for years. She used to be sickly and had several surgeries, but Falun Dafa gave her a new, healthy life. She overcomes difficulties, works hard and takes it as her responsibility to spread the word about the benefits of Falun Dafa.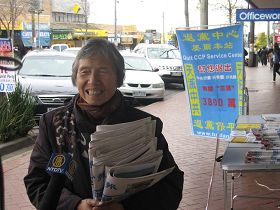 Mrs. Zhu, a seventy-eight-year-old Falun Gong practitioner in Melbourne
Due to breast cancer, Mrs. Zhu had to have one of her breasts removed. Two-thirds of her stomach and her gallbladder were also removed. In addition, she had osteoproliferation, urinary tract infection, tracheitis and other ailments. Despite all the medical treatment she received, she remained very weak. She couldn't climb stairs and lived in pain.
Then one day, a friend introduced her to Falun Gong. She went to a group exercise site and learned the exercises the following day. Only two or three days later, her leg stopped hurting. In fact, she hasn't seen a doctor or taken any medicine since.
Mrs. Zhu said, "In addition to the great health improvement, I also feel a great change in my spirit. I feel the future is so beautiful! I feel healthy both physically and spiritually. I would like to introduce this great cultivation practice to more people and let them benefit from it too. Just doing the exercises isn't enough, I have to be a good person and keep improving."
Before Falun Dafa, Mrs. Zhu had conflicts with her daughter-in-law's mother. They used to fight each other and refused to talk to each other. After Mrs. Zhu started cultivating herself in Falun Dafa, she realized she should be compassionate and tolerant. She took the initiative to improve her relationship with her daughter-in-law's mother.
"Both my daughter-in-law and her mother could feel my compassion. They began to accept the benefits of Falun Gong."
Her great health has reduced the family's medical expense burden. Her whole family is supportive of her involvement in Falun Dafa activities. Two-thirds of the storage space in their house is used to store truth-clarification materials. Her husband helps her clean and iron Falun Dafa banners. Her son helps her fix her computer. Her husband pays for her travel expenses. Whenever she is out of town, he looks after himself. He also benefits from Falun Dafa and has great health.
Mrs. Zhu is deeply saddened that such a great cultivation practice is persecuted by the CCP. She takes every opportunity to expose the persecution and lies. Her weekly schedule is full. She goes to truth-clarification activities in front of the Chinese Consulate every Tuesday, Thursday and Friday, and does truth-clarification activities in Fitzory Garden and city square every Wednesday. Every Saturday and Sunday, you will find her at Service Centers to Quit the CCP in Clayton and Springvale, rain or shine.
She takes many brochures and newsletters with her, taking trains and buses to her destination. Her lunch is left-overs from the night before. She stands for hours when distributing brochures. Even though she feels tired at the end of the day, she thinks all is worthwhile. In her own words, "As long as I can help people make a good choice for their future it's worth it! This is the goal of our truth-clarification!"