The Ongoing Persecution of Lawyer Liu Ruping from Jinan City, Shandong Province (Photo)
February 07, 2010 | By a correspondent in Shandong Province
Name: Liu Ruping (刘如平)
Gender: Male
Age: 50
Address: Changqing District, Jinan City, Shandong Province
Occupation: Lawyer and Law Research Office Chair of Jinan City Changqing District CCP School (济南市长清党校的法律研究室主任兼律师)
Date of Most Recent Arrest: July 1, 2009
Most Recent Place of Detention: Changqing District Third Detention Center (长清区第三看守所)
City: Jinan
Province: Shandong
Persecution Suffered: Electric shock, sleep deprivation, forced labor, brainwashing, illegal sentencing, force-feeding, beatings, imprisonment, solitary confinement, torture, physical restraint, home ransacked, interrogation, detention
Defense Attorney: Lawyers Mr. Li Changming and Mr. Zhang Chuanli, both from Beijing (来自北京的李长明律师和张传利律师)
(Clearwisdom.net) After sixth months of detention, the Changqing District Court in Jinan City tried Mr. Liu Ruping again, and sentenced him to seven years in prison on January 22, 2010. Mr. Liu said that he is innocent of any wrongdoing, and that the day that justice will prevail for Falun Gong is coming soon.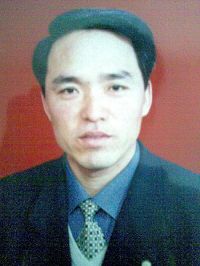 Mr. Liu Ruping, a lawyer in Jinan City
Mr. Liu began to practice Falun Dafa in 1997, and ever since then he has acted in accordance with the principles of Truthfulness-Compassion-Forbearance, and has been considerate of others. His health and spirit improved substantially after practicing, and the physical illnesses he had suffered from since childhood disappeared. He was highly regarded by his colleagues and neighbors. His family was the envy of the community, and his wife worked in Economic Affairs in the Changqing District of Jinan City. His son, his 80-plus-year-old father and all his brothers and sisters got along very well.
Illegal Criminal Detention for Eight Days, Brainwashing for Twenty Days
On October 17, 2005, Mr. Liu stepped up his efforts to expose the persecution and to clear the name of Falun Dafa, so he posted a "Falun Dafa Association Announcement." Officers from the Dongguan Police Station and the Changqing District Public Security Branch of Jinan City arrested Mr. Liu. The next day, Ma Guangzhen, the captain of the Changqing District Public Security Branch, searched Mr. Liu's house and confiscated many of his Dafa books, truth-clarification materials, the Nine Commentaries on the Communist Party, his computer, USB drives, a tape recorder, a portable listening device and more. Mr. Liu was subsequently charged with "using a cult organization to undermine the law." He was detained in the Changqing District Detention Center. On October 19, 2005, Ma searched Mr. Liu's law office and took away his private bank deposit slips, truth-clarification materials and office computer.
Ma assigned two different detention center guards to instigate different groups of criminals to bully and verbally abuse Mr. Liu. On October 18, 2005, when he was first taken to the detention center, he was immediately met with slaps and beatings from seven or eight criminals. The unintended consequence was that the two guards who witnessed the beatings were impressed by this genuine Dafa disciple's embodiment of the teaching, "One should not fight back when being punched or insulted" (Lecture Four, Zhuan Falun).
Mr. Liu was detained for seven days, and then on October 25, 2005, the Changqing District Public Security Branch issued a "release certificate" to him declaring it a "minor offense, which does not constitute a crime." However, Ma Guangzhen took him to the brainwashing center at Liuzhangshan, Jinan City, where he remained for twenty days. There, they tried force Mr. Liu to give up his belief and ordered him to watch brainwashing videos to "learn" and to write a personal comment. On November 14, 2005, Liu Ruping's father passed away, and two of his village party cadres came to write guarantee statements for him so he could go home for a week to take care of the funeral arrangements. He left for home in the afternoon.
After the funeral service, Mr. Liu was forced to leave home in order to avoid further persecution, and many practitioners selflessly helped him during that time. On November 25, 2005, he published an article on the Minghui website (the Chinese version of Clearwisdom) to urge "the immediate end of the 'conversion' program." At the same time, he published a solemn statement stating that everything he had said, done or written against Dafa during his arrest was invalid. This angered the local 610 Office.
Second Arrest, Brainwashing, and Forced Labor
On December 7, 2005, Tao Xiangying, the director of the Shuntian Law Firm in Shandong Province, told Mr. Liu to go pick up a lawyer license examination registration form in the law office. When he did so, Chen Zhong, the deputy director of the Changqing District 610 Office and two policemen arrested Mr. Liu, and he was taken to the brainwashing center in Jinan City by Ma Guangzhen and other policemen.
Mr. Liu refused to cooperate with the guards in the brainwashing center. On December 13, 2005, policemen from the Jinan City Public Security Bureau and the Changqing Branch went to talk to him to decide if he was going to the forced labor camp. Mr. Liu told them that they were committing a criminal act and that their actions were against the law.
On December 14, 2005, the Jinan Municipal Public Security Bureau decided to send Liu Ruping to the forced labor camp for one year and three months. The next day, policeman Ma took him to the notorious Wang Village Forced Labor Camp, also known as the Second Forced Labor Camp in Shandong Province.
Guard Liu Lin immediately assigned two collaborators, Zhang Bin and Shen Zhijun, to monitor Mr. Liu as soon as he arrived on December 15, 2005. They isolated Mr. Liu, followed him for 24 hours and began the work of urging him to abandon his beliefs.
On January 10, 2006, guard Luo Guangrong arranged two groups of collaborators to take turns brainwashing Mr. Liu until 2:00 a.m. The brainwashing was designed to consume his energy and dampen his will power. They kept him up late, forced him to stand for long periods of time, limited his restroom use, and brainwashed him without interruption. The guards and collaborators kept up their pressure on Mr. Liu.
On January 12, 2006, Liu Ruping received clothing sent by his wife. He was feeling tired from the pressure and sleep deprivation of the past few days' brainwashing activities so he thought he could use a shower. He was told to wait for permission. After a while, guards Luo Guangrong and Sun Fengjun came with a group of people. Sun suggested, "If you write a guarantee statement, then we'll let you shower." Collaborator Wang Weizhao gave him a sample guarantee. Mr. Liu, amid the rush and confusion, agreed and wrote the guarantee.
Mr. Liu thought through the whole thing overnight, and regretted writing the guarantee. He wrote another statement to invalidate the previous one and expressed his determination to continue practicing Dafa. Guard Luo was furious when Mr. Liu showed him the statement expressing his determination to continue practicing Falun Dafa. He pointed to the wall and said, "This is the law and try this law" while banging Mr. Liu's forehead against the wall. He told the collaborators to stop the brainwashing activities, and instead punished Mr. Liu by having him stand for a long period of time and limiting his restroom usage.
On January 26, 2006, guards ordered Mr. Liu to sit up straight on a small stool facing the wall with his feet together and hands on his lap. He was to sit like that from 5:00 a.m. to 11:00 p.m. in a closed-off area. The guards limited his restroom use, and disallowed him to shower or wash his clothes. After days of sitting, a rash broke out on his bottom and the skin became raw. The guards also intentionally abused and insulted him. Many times guard Sun hit his forehead and the top of his head with his fist.
On April 26, 2006, guard Li Gongming transferred Mr. Liu to the Seventh Brigade. For fourteen days he was again surrounded by guards and collaborators for brainwashing. Li ordered collaborators to work together to brainwash Mr. Liu, and ordered mandatory "video" and "reading" sessions for Mr. Liu. The videos and the books were intended to "reform" him. Mr. Liu maintained his unwavering determination to practice Dafa and refused to budge.
To continue the "transformation" effort, on May 6, 2006, Li began to employ the sleep deprivation technique. Collaborators Fan Lincheng and Gao Zhenquen worked on him day and night on May 9. O n May 10 the collaborators could not sustain it themselves and transferred Mr. Liu to the "close supervision unit." Mr. Liu was not allowed to sleep until about 3:00 a.m. on May 12. He got two hours of sleep and was taken to the "close supervision unit" area again and every day got very little sleep.
On July 14, 2006, criminals Wang Yunpeng and Ma Baojin, under the command of Li Gongming, moved Mr. Liu to a northern room in the Seventh Brigade. During the move, they kicked Mr. Liu's right foot, breaking his toenail and making it bleed. They threw him to the ground and guard Li began to pound Mr. Liu with his fist. Wang Xinjiang, the deputy captain, took away Mr. Liu's watch and handcuffed both his arms behind a wooden chair. The guards took off his trousers, separated his legs and the two guards each stepped on one of his feet. One guard pressed his head against the back of the chair in preparation to stabilize his body while he was subjected to electric shock. Guard Liu Zhonghao held a cup of water, ready to pour water over his head to prevent his body from going into shock. Guard Wang held an electric baton to shock the inner thigh of his left leg, his back and mouth, and another guard did the same on his right inner thigh. During the torture, Mr. Liu loudly declared, "Fa Zhen Qian Kun, Xie Er Quan Mie." ("The Fa rectifies the cosmos, the evil is completely eliminated.") Guard Wang kept shocking his mouth to stop him from crying out loud. They also shocked the bottoms of his feet. This continued for two to three hours while captain Jing Xusheng recorded the event.
After the electric shock torture, Mr. Liu's face was distorted, his legs and feet were swollen and he was limping. To cover up their crimes, Mr. Liu was locked in a restricted confinement area. Both of Mr. Liu's legs and feet were swollen for many months, and he limped for over six months. His broken toenail was still a problem by the time he was released from the labor camp. After the confinement, he was taken to the Sixth Brigade for further persecution in isolation.
Liu Ruping remained in the Sixth Brigade for over 15 days. On August 5, 2006, he was taken to the Eighth Brigade's strict confinement unit even before he had recovered from the shock. In December 2006, captain Zheng Wanxin extended Mr. Liu's prison term by two months. Mr. Liu was illegally sentenced to one year and three months in a forced labor camp and the term was extended by another two months and twenty-two days. The entire time, no official legal procedures were followed.
On May 28, 2007, Mr. Liu was asked to sign a paper when he went to get his release certificate. He was surveyed with questions such as, "Did the police beat you, or did they exhibit abusive behavior?" The guard didn't record his answers when he acknowledged the beatings and the abusive behavior, and therefore Mr. Liu refused to sign the paper.
Changqing District Personnel suspended Liu Ruping's salary in January 2006. After he was released from the labor camp, the Changqing Party School reduced his salary to continue financial persecution. The party school prohibited him from teaching and stripped him of his duties as a high level lecturer. They revoked his administrative duties and paid him the salary of a regular staff member.
In June 2007, the party school twice formulated a supervision roster to send two people at a time to his house to monitor him.
In November 2007, personnel from the Changqing Justice Department ordered the local law firms not to offer any jobs to Mr. Liu or help in his law license processes.
On November 21, 2007, Mr. Liu went to Liu Pifeng, the director of Shuntian Law Firm, his previous employer. He was told that the firm had handed over his license to the Provincial Justice Department. He was in effect not a lawyer of the firm and his contract was invalidated.
On the afternoon of August 12, 2008, under the excuse of security for the Olympic Games, officers from the Changqing District 610 Office, the National Security Bureau in the Public Security District branch, the Xincheng Police Station, and the Xiaoli Police Station arrested Mr. Liu Ruping and his wife Ms. Zhang Chenglan. Ms. Zhang Changlan was illegally sentenced to one year and nine months of forced labor. On September 12, 2009, she was taken to the notorious First Women's Forced Labor Camp in Shandong Province.
Policemen Guo Jun and Zhang Jibin, under the command of the deputy secretary of the Changqing Political and Judicial Committee and Meng Qian, the head of the 610 Office, took Mr. Liu to the brainwashing center in Jinan City. Meng Qian personally took care of the procedures required to send Mr. Liu to the brainwashing center.
Third Illegal Detention
On August 29, 2008, policemen from the Xiaoli Police Station, Changqing District, took Mr. Liu to the Jinan City Detention Center. This was his third illegal detention. He was in the Jinan Municipal Brainwashing Center for seventeen days and the Jinan Municipal Detention Center for thirty days. Mr. Liu was again never given any paperwork and nothing was explained to him about any formal proceedings.
On April 16, 2009, Meng Qian, Zhang Mingli, the director and deputy director of the 610 Office in Changqing District, Xing Huaichun, and one other person went to Mr. Liu's office to ask his supervisors to put him under house arrest the next day. This was to prevent him from going to the illegal court trial of Falun Gong practitioner Ms. Zhang Yuying.
On the morning of April 21, 2009, Meng Qian, Zhang Mingli, and Xing Huaichun went to Mr. Liu's office again to put him under house arrest and limit his freedom for seven hours. The reason given was that President Hu Jintao was visiting Jinan City.
The Fourth Arrest
At about 9:00 a.m. on July 2, 2009, Mr. Liu was arrested by a group of plainclothes policemen under the command of the 610 Office in Changqing District, Jinan City. They broke into Mr. Liu's house and took away his computer, printer, cell phone, Falun Dafa books and personal items. They ransacked his house and littered it with cigarette butts, ashes and peanut shells. Mr. Liu was again detained at the 610 Office Brainwashing Center in Jinan City.
On the morning of July 3, 2009, policemen Wang Feng and Zhang Jibin from the Changqing Public Security Branch and other policemen from the Jinan Municipal Public Security Bureau went to the college campus where Mr. Liu's son attended school to "investigate" Mr. Liu. They neglected to tell Mr. Liu's son that his father was under arrest. Their real intention was to gather "evidence" against Liu Ruping.
On the afternoon of July 7, 2009, Mr. Liu was taken to the Changqing Detention Center. This was his fourth arrest. He was transferred to the Third Detention Center in Changqing District the next day.
Liu Ruping was kept in the detention center for six months. During this time, guards handcuffed his arms and legs together with his head down, forcing his body into a 90-degree angle. He was handcuffed like that day and night. He was also force-fed, and endured electric shock treatment. His lips were swollen from the shocks. People who saw the torture he suffered sympathized with his situation and criticized the torturers.
Mr. Liu Ruping remained a compassionate person and continued to clarify the truth to the perpetrators, reflecting a Dafa practitioner's kindness. He told people the true nature of the Communist Party and the facts about Falun Gong and reminded people to remember, "Falun Dafa is good; Truthfulness-Compassion-Forbearance is good." His wife Ms. Zhang Chenglan is still detained in the Shandong Province First Women's Forced Labor Camp.
On January 22, 2010, the Changqing District Court held a trial for Mr. Liu. They employed more than 200 officers for "security." Two lawyers were body searched. Mr. Liu Ruping's lawyer was denied a hearing. Among Mr. Liu's family members, only his older sister was allowed to sit in on the proceedings.
The trial began at 9:00 a.m. Two lawyers defended Mr. Liu's innocence, but their statements were interrupted many times by the judge. Mr. Liu remained in good spirits throughout the trial. He was sentenced to seven years in prison.
Changqing District 610 Office telephone: 86-531-87233618
Meng Qian, deputy secretary of Changqing District political and judicial committee and head of the district 610 Office: 86-531-87223511 (home), 86-13793138510 (cell)
Wu Yuewen, deputy director of Changqing District Public Security Branch: 86-531-87224986 (home), 86-13361081503 (cell)
Chen Zhong, deputy director of Changqing District 610 Office: 86-531-87224817 (home), 86-1320583908 (cell)
Wang Youhai, standing committee deputy principle: 86-531-87265108, 86-531- 87222616, 86-13905416626 (cell)
Wang Feng, Anti-cult Brigade captain of the Changqing District Public Security Branch: 86-531-87225936 (home)
Xiaoli Police Station, Changqing District Public Security Branch: 86-531-87388619/87382013 (office)
Chen Zhuanduo, head of the police station office: 86-531-87388619, 86-13361081333 (cell)
Luo Guangrong, captain of the Seventh Brigade, Second Forced Labor Camp for Men, Shandong Province: 86-15866613798 (cell)