Ms. Hu Yunhuai's Body Cremated; Her Family Has Nowhere to Go for Redress (Photo)
December 27, 2010 | By a Clearwisdom correspondent from Sichuan Province, China
Name: Hu Yunhuai (胡云怀)
Gender: Female
Age: 54
Address: Xichang City, Sichuan Province
Occupation: Tailor
Date of Death: October 23, 2010
Date of Most Recent Arrest: May 7, 2010
Most Recent Place of Detention: Tuohuang Detention Center (拓荒看守所)
City: Xichang
Province: Sichuan
Persecution Suffered: Detention, brainwashing, extortion, interrogation, home ransacked
(Clearwisdom.net) Falun Gong practitioner Ms. Hu Yunhuai from Xichang City, Sichuan Province, was cremated on December 13, 2010, by the Municipal National Security Bureau after she was persecuted to death in a detention center by the Chinese Communist Party. Her family had nowhere to go to seek redress for her death. Departments they contacted deflected responsibility to the Municipal Public Security Bureau. When the family demanded written proof of her death, the Municipal Public Security Bureau refused to provide it. The bureau also refused to compensate the family for what they spent on her hospitalization, close to 10,000 yuan.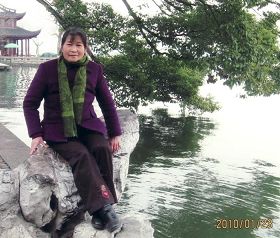 Ms. Hu. Photo taken on January 23, 2010
After the Chinese Communist Party started persecuting Falun Gong in July 1999, Ms. Hu and her family was tormented mentally and financially. She died of severe asthma and respiratory failure in the First Hospital of Liangshanzhou on October 23, 2010, after being held and tortured in a detention center for five months.
Ms. Hu was very feeble and disease-ridden prior to practicing Falun Gong. Her health was threatened by the symptoms of cerebral palsy. She had a hot temper. All her diseases disappeared after she took up the practice. She became very kindhearted. She and her family operated a tailor shop in Xichang City. Her family's livelihood depended on the business.
The Xichang City authorities established a "brainwashing center" in Xining Township in 2003. Ms. Hu was tricked into going to the facility by six officer from the local police station on the morning of September 24. She was held in the brainwashing facility for 71 days. They released her after extorting 2,000 yuan from her and forcing her to sign a guarantee statement promising that she would no longer practice Falun Gong.
She became the focus of monitoring by personnel from the Municipal National Security Bureau after she was released. Undercover police often stalked her doorsteps to keep an eye on her. More Falun Gong practitioners, including Gao Deyu, Cheng, Donglan, He Xianzhen, and He Zhengqiong, were arrested in October 2009. She was monitored even more strictly since He Xianzhen and He Zhengqiong were Ms. Hu's relatives.
Ms. Hu went to the First Elementary School of Xichang City to pick up her grandson on the afternoon of May 7, 2010. She was arrested at the school's main entrance by several police officers from the Municipal National Security Bureau. Subsequently, they went to ransack her tailor shop and confiscated her scissors, a computer, and a printer. The computer was allegedly taken away because it had the words "Clearwisdom.net" on it. Ms. Hu's husband begged the police to stay away from their grandson during the arrest, as he had a rare blood disease that no hospital in the local area could cure. The child's family had just spent about 20,000 yuan on his treatment in Huaxi Hospital in Chengdu City. Ignoring the older man's plea, one of the officers went up to the child and grabbed him tightly by the arm. His arm instantly turned black and blue. The symptoms of the blood disease recurred. His mother, who had to take time off from work, quickly took her son for emergency treatment at the hospital, which was located a thousand kilometers away in Chengdu City.
During Ms. Hu's detention in Tuohuang Detention Center in Xichang City, her false teeth were taken away from her. The living conditions were very poor. Two meals, which included a bowl of low-quality rice and boiled vegetables, were served daily. The rice was often cold and hard. Because she didn't have her false teeth, she couldn't chew. In June, she felt as if there were an object in her throat and she couldn't swallow. She reported her condition to the detention center on June 23 and asked to be examined. Zhou Lian, captain of the detention center, ignored her. She later demanded a checkup again, but Zhou repeatedly refused to agree. Her body weight quickly dropped from over 100 pounds to 70 pounds.
Ms. Hu was emaciated, just a bag of bones. Despite her poor health, police from the Municipal National Security Bureau continued to pressure her to confess to unwarranted charges. The day before she received a letter of indictment from the court, Wu Hongtie, captain of the Municipal National Security Bureau, and Chen Qi, deputy director of the local 610 Office, went to the detention center in Tuohuang to extract a confession from her in order to obtain a so-called "oral testimony."
Because no evidence was found to indict Ms. Hu, in mid-August, police from the Municipal National Security Bureau, led by Tai Gangyi, went to the Nuclear Industry Brigade 281 in Xichang City to find the son and daughter of a Falun Gong practitioner, Ms. Wu Shujun, to fabricate evidence. The police threatened the children that if they didn't cooperate with them, they would jail their mother. They gave false evidence out of fear. The police also went to find another practitioner in the brigade to help them generate more false evidence.
The Municipal National Security Bureau handed the falsified evidence (which was full of loopholes) to city procurators Jiang Shou and Xiao Hui, who indicted Ms. Hu and Ms. Wu on the basis of the fabricated evidence. (See Xichang City Procurator Criminal Procedure (2010) No. 196).
The Court of Xichang brought Ms. Hu and Ms. Wu to trial on September 20, 2010. Ms. Hu was in poor condition during the hearing. She frequently coughed and vomited and suffered from abdominal pain. She couldn't stand up straight. Her health worsened on October 15. She was taken to Zhouer Hospital by police from the detention center to be examined. When the doctor asked why they waited so long before bringing the patient to the hospital and said that she had to be hospitalized for further treatment, they refused to answer or take the doctor's advice. The police lied to Ms. Hu's family on October 16, telling them that she was in good health.
Probably knowing that Ms. Hu was in critical condition, on October 21, Xichange Court officials called her family to come apply for her release on medical parole. The family came and applied many times before they were approved. Ms. Hu had become very ill by that time, and no one dared to remove her oxygen supply. She died on October 23.
Ms. Hu and her two relatives were persecuted for their belief in Truthfulness-Compassion-Forbearance. Ms. Hu died as a result of the persecution. Her daughter-in-law's mother, Ms. He Zhenqiong, was sentenced to seven years in prison. Ms. He's aunt, Ms. He Xianzhen, was sentenced to 10 years in prison. Both cases are presently being appealed.
Related article:
http://clearwisdom.net/html/articles/2010/11/5/121252.html
Chinese version available at http://minghui.ca/mh/articles/2010/10/25/231443.html