Austria: Exposing the CCP's Atrocities on International Human Rights Day (Photos)
December 26, 2010 | By Zheng Qing, Clearwisdom Correspondent in Salzburg
(Clearwisdom.net) On December 10, 2010, International Human Rights Day, Falun Gong practitioners in Austria held an Information Day activity at the city centre of Altenmarkt, Salzburg. The event brought awareness to the locals and tourists from around the world about the CCP's brutal persecution of Falun Gong practitioners and called for an end to the CCP's atrocities.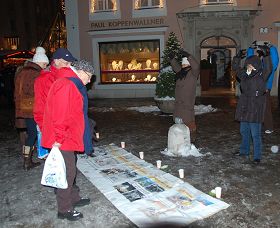 Tourists stop to read about Falun Gong and the persecution from the display boards

Passersby listening attentively to the practitioners explain the facts about the persecution of Falun Gong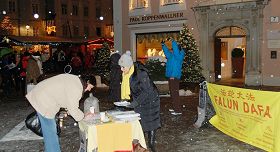 People signing in support of Falun Gong

Though it was a snowy in December, Salzburg, a widely known Slazburg Christmas Market attracted a great number of local people and tourists from various parts of the world.
Seeing the display boards about Falun Gong and the Falun Gong exercise demonstrations by the practitioners, visitors came up one after another to learn more. Many of them, upon learning about the CCP's persecution of Falun Gong, signed the petition calling for an end to the persecution and expressed their support.
After listening to the facts about the persecution of Falun Gong, a gentleman said to the practitioners while signing the petition, "You do not have to say anything further. I am fully convinced. I am fully aware of the brutality of the persecution. That's why I'm signing the petition."
Another woman said to a Falun Gong practitioner at the display area, "Your activity against the persecution is very important!"