2011 Shen Yun Tour Debuts in Dallas (Photos)
(Clearwisdom.net) On Friday night, December 17, Shen Yun Performing Arts launched the first performance of its 2011 world tour at Winspear Opera House in Dallas, Texas.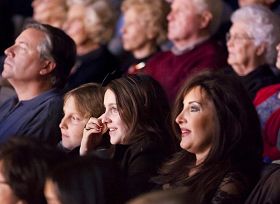 Shen Yun New York Company made its 2011 tour debut at Winspear Opera House

The Shen Yun Dallas tour stop received congratulatory letters and proclamations from dozens of Texas elected officials. Among them, U.S. Senator Kay Bailey Hutchinson commended the New York-based performing arts company and wrote that "the richness and diversity of Chinese culture, as reflected and celebrated by Shen Yun Performing Arts, is extraordinary."
Among the audience was Ed Herider, who has extensive experience in writing and directing for theater.

"I thought the storytelling was very well done," Mr. Herider said. He added that having the descriptions in the program helped him understand the stories like The Monkey King Outwits Pigsy, which he had not heard of before.

Accompanying him was Lynda Truitt, who loved the dancing and the costumes.

"I especially liked the novelty of the dances that used the clacking boxes and the drums. You'd think one of them would be off, but no! They're very timely, and it's very impressive." she said, referring to the Northeastern Drummers and My Beloved Yi Village.

Mr. Herider agreed and said the ethnic dances with props in particular added the variety he enjoyed watching.

"The choreography was beautiful," he added.
The New York-based company's presentation impressed May Sheng, a fashion designer.

"The costumes were great, beautiful, beautiful colors―they were vivid and coordinated," Ms. Sheng said.

"They were all very elegant, real Chinese classical dancers. You could see the beauty of real Chinese ancient history," Ms. Sheng said. "I loved the beautiful, classical part to it. They're very professional."
Stefan Hofer, owner of multiple businesses, said he is very familiar with dance and enjoyed the show.

"I really liked it. Very good synchronicity, it was very good, precise, on time. I enjoyed it a lot. The costumes, the rhythm, it was all excellent," Mr. Hofer said.

He added that he particularly appreciated that the New York-based company's performance spanned across different time periods, from the Chinese culture's creation to the present, and through that he could "see some of the traditions."

"It made me feel relaxed, took my mind off work," he said with a laugh.
Scott Eskridge designs dance wear for a living, and he took his mother Marilyn to the show on December 17 as an early Christmas gift. Both were captivated.

"They're [the Shen Yun costumes] very elegant and unbelievable," he said. "You really have to have an eye for the costumes they have on, and I notice a lot of stuff maybe some other men might not," the dance wear designer said. "It was incredible. I really enjoyed it and just … the backdrop—I've never seen anything like it before. They really make it look effortless. It's quite incredible."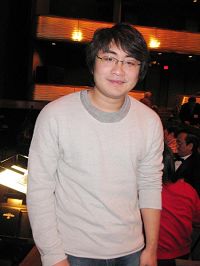 Chinese international student Shukai Cao at the theater
Shukai came to the U.S. one year ago to pursue higher education. He said that he heard about Shen Yun in China and all his family members want to see it. "They told me to watch Shen Yun once I got here. Now the dream has come true and I feel that I am very fortunate."
Cao said: "Shen Yun is very beautiful, traditional and very special. It encompasses so many dynasties and different ethnic groups. The dances are very elegant with messages of compassion. I saw the essence of traditional Chinese culture, which is not seen in Mainland China. All Chinese people should see this. I will describe my experience with Shen Yun to my family."