Ms. Huang Xiujuan Disabled as a Result of Persecution in Wenzhou City, Zhejiang Province (Photo)
December 10, 2010 | By a Clearwisdom correspondent from Zhejiang Province, China
Name: Huang Xiujuan (黄秀娟)
Gender: Female
Age: Unknown
Address: Unknown
Occupation: Unknown
Date of most recent arrest: August 15, 2010
Most recent place of detention: Wenzhou Justice Bureau Brainwashing Center (温州司法局洗脑班)
City: Wenzhou
Province: Zhejiang
Persecution suffered: Brainwashing
(Clearwisdom.net) Ms. Huang Xiujuan was taken to the Wenzhou Justice Bureau Brainwashing Center on August 15, 2010. The 610 Office refused to release her even though her blood pressure rose. Ms. Huang was disabled as a result of the relentless persecution. She can no longer look after herself.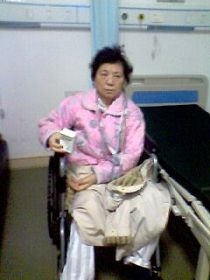 Ms. Huang Xiujuan
Ms. Huang's husband has passed away. She is the sole take caretaker of her daughter, who has mental problems.
The brainwashing center is located on the sixth floor of the Justice Bureau and operated by the Wenzhou City 610 Office. Falun Gong practitioners Ms. Huang Xiujuan, Ms. Dai Shengnu, and others are being held there. Every practitioner is monitored by two people. About six guards take turns guarding the front door. There are more than 20 staff members in the brainwashing center.
Ms. Huang Xiujuan and Ms. Dai Shengnu were detained in a brainwashing center and prison several years ago, and were mentally and physically abused.