Dr. Shen Yueping from Yunnan Subjected to Persecution Before She Died (Photo)
November 24, 2010 | By a Clearwisdom correspondent from Yunnan Province, China
Name: Shen Yueping (沈跃平)
Gender: Female
Age: 49
Address: Yuxi City, Yunnan Province
Occupation: Physician
Date of Death: July 16, 2009
Date of Most Recent Arrest: December 28, 2004
Most recent place of detention: Second Women's Prison in Yunnan Province (云南省女子第二监狱)
City: Kunming
Province: Yunnan
Persecution Suffered: Detention, forced labor, illegal sentencing, torture, beatings, drug administration, denied visitation.
(Clearwisdom.net) Dr. Shen Yueping began practicing Falun Dafa in 1996. She used to work as an attending physician at the Maternal and Children's Health Hospital in Yuxi City, Yunnan Province. She had won many awards in the city and in the province, and had earned a good reputation among patients and colleagues.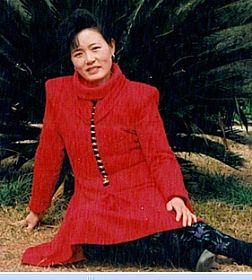 Shen Yueping, M.D.
The Chinese Communist Party (CCP) has been persecuting Falun Gong since July 1999. Dr. Shen Yueping had benefited both physically and mentally from practicing Falun Dafa, so in October 2000, she went to Tiananmen Square with her husband Pu Zhiming and her son Pu Dan to hold a banner that read, "Falun Dafa is good." They were arrested, and brought back to Yuxi City by the police. Dr. Shen was illegally sentenced to a three-year prison term. She was detained in Dabanqiao Women's Forced Labor Camp in Kunming City. Her husband was sentenced to a two-year prison term, and was detained in Dapingba Forced Labor Camp in Lufeng County.
On December 28, 2004, Officers He Xiaopei, Zhang Xiangyu, and others from the Hongta District Police Department in Yuxi City went to a trade show and arrested Dr. Shen Yueping, her husband Pu Zhiming, and two other Falun Gong practitioners there at around 10:00 p.m. Under the direction of the local Political and Judiciary Committee and the 610 Office, the Hongta District Court sentenced the four practitioners to labor camp terms ranging from one to five years. Dr. Shen was sentenced to a four-year term at first. Dr. Shen's son Pu Dan was a student in Yuxi No. 1 Middle School and had been cuffed and threatened for three days. She exposed this evil conduct by the Hongta District Police Department to the court. Her term was illegally extended for an additional year, and she was sentenced to a five-year term. Dr. Shen was sent to the Second Women's Prison in Yunnan Province. Her husband Pu was sentenced to a four-year term. He was persecuted in the First Prison in Yunnan Province.
At first, Shen Yueping and her husband Pu were able to hear from each other by mail every two months. However, Pu no longer heard from his wife after receiving a letter from her for the last time in late 2006. Shen's family members were also denied the right to visit her. No one heard from Shen again, until 11:00 a.m. on May 12, 2009, when Pu received a phone call from a guard in the Second Women's Prison. The guard told him that the hospital had issued a "notice of critical condition," and asked if he would like to visit her in the hospital. Pu rushed to the Second Affiliated Hospital of Kunming Medical College, and met Shen at around 2:00 p.m. Shen was in the operating room. She had been mistreated and was emaciated. She was nothing but skin and bones. She was on her last breath, and could hardly keep her eyes open, let alone talk. Right after Pu arrived, he was asked to sign the "notice of critical condition" that was issued for the second time. The first one was already signed by the prison guard.
To avoid paying for the expensive hospital bills, the prison guards transferred Dr. Shen to the Center Hospital for the Bureau for Reform Through Labor, a hospital with very poor medial equipment and poor conditions. Pu was only allowed to visit Shen for five minutes per day. On May 15, the prison guards arranged the hospital to release Shen on medical parole. So Shen's family transferred her to the Third People's Hospital in Kunming City at around 10:00 a.m. that day. Shen stayed there until she died at 11:30 p.m. on July 16. During this period, Pu was asked to sign a "notice of critical condition" for the third and fourth time.
During her stay in the hospital, Shen was on a life-support machine around the clock, as she couldn't breathe without it. In the later period she was on a ventilator, and could no longer speak. When Shen was able to speak, she told her family what happened to her in the prison. She said, "Every day, I was forced to sit on a hard bench for at least 15 hours. If I failed to sit straight, the inmates pinched my hands, stabbed me with needles or harassed me immediately. Verbal abuse was common. I could take a shower only once every two weeks, and was not allowed to wash my face or feet at any other time. I could use the toilet only three times per day, no matter what. So I had to restrain myself from drinking water. During my menstrual period, I was not allowed to buy any sanitary articles, so I had to use toilet paper instead. I had only about 3.5 oz of rice for each meal, and no pickles or pastries, even though I offered to buy them. I was given no meat at all except on the three major holidays. I was frequently forced to take unknown drugs even though I was not ill. After I took the drug, I couldn't stop coughing, day and night. I coughed so hard that I was in extreme pain. If I refused to take the drugs, the guards put them in my food."
After eight months, Dr. Shen's lungs had developed holes, like worn-out cotton wadding. This was what the doctor said when he took an X-ray of Shen's lungs. The doctor asked Dr. Shen why she didn't come for treatment earlier as she was a doctor herself. When she was in the prison, Shen had fainted and remained unconscious for over five hours once. During the first few days after she was released on medical parole, the prison guard gave her only a bowl of rice noodles or a bowl of porridge each day. Shen was starving from noon to the next day. Her family had brought nourishing foods and fruits to the prison for her, but none were given to her.
We were told that three female guards in the Second Women's Prison were in charge of persecuting practitioners. They include the warden named Wang, the chief of the education section named Lei (cell phone number 86-13888510112) and the prison doctor named Ding.
Related article:
http://clearwisdom.net/html/articles/2009/7/27/109535.html
http://minghui.ca/mh/articles/2009/7/21/204965.html