Australia: Canadian Human Rights Lawyer Gives Details on the CCP's Harvesting of Organs from Falun Gong Practitioners at a Forum on Illegal Organ Trade (Photos)
(Clearwisdom.net) David Matas, a famous Canadian human rights lawyer, named to the Order of Canada in 2008, gave a speech at the forum on "Illegal Organ Trade" held at the Taiwan Center in Queensland, Australia, on October 30, 2010. He exposed the fact that the Chinese Communist Party (CCP) harvests organs from living Falun Gong practitioners. Many local citizens and media attended the forum.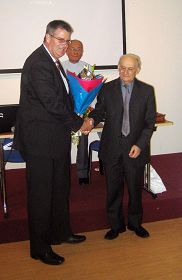 Mark Furner (left), congressman from Queensland, and David Matas (right)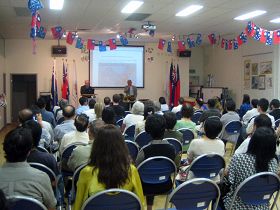 The forum
David Matas is the co-author, with David Kilgour, the former Canadian Parliament Member, of "Report into Allegations of Organ Harvesting of Falun Gong Practitioners in China," which alleges, that since 2000, the Chinese government has been systemically harvesting organs from Falun Gong practitioners.
In his speech, David Matas said that at the beginning of the investigation, he hoped that what they had heard about possible organ harvesting was not true, but after collecting their evidence, he and David Kilgour concluded that it was true that Falun Gong practitioners' organs were being harvested for profit in China.
After the report was published, the CCP tried to bury the evidence and deny the allegations. The CCP also tries to interfere with Matas and Kilgour whenever they are due to speak in public. This time, before Matas arrived in Brisbane, the Epoch Times newspaper's office was attacked by unidentified Chinese individuals. The Epoch Times organized the forum. Matas said that he and Kilgour have been interfered with many times; sometimes they have even received death threats. But he said those interferences won't scare them.
Matas' speech touched the audience. Mark Furner, the congressman from Queensland, said that he would pay more attention to the Falun Gong issue in the future. He said he learned some things that he didn't know about from Mr. Matas' talk. He thanked Mr. Matas for giving an excellent speech.
Chen Tianquan, a local Chinese Catholic priest, told how his brothers and sisters had been jailed by the CCP for 34 years. He said Matas' speech helped him to see the evil nature of the CCP more clearly.
Mr. Ke from Brisbane had heard Mr. Matas speak before. He said, "It requires courage to conduct such an investigation and speak out about it. More people learned the truth as a result of what these two men did."
Mr. Ke condemned the attack on the Epoch Times office. He said, "It should not happen in a democratic society, where all voices should be heard. It is barbaric behavior. I hope the police will find out who did it."
Madhukar Naiker is a lawyer and immigration consultant. He has helped many Falun Gong practitioners to apply for refugee status in Australia, so he knew about the persecution. He said that Matas' professional background and experience gave him some ideas.
Several mainstream media covered the story. David Matas will speak again in Sydney and New Zealand.