Stuttgart, Germany: Exposing the Persecution of Falun Gong in China (Photo)
November 13, 2010 | By a Falun Dafa practitioner from Germany
(Clearwisdom.net) Falun Dafa practitioners recently organized information day events in the cities of Tubingen and Stuttgart. The purpose of the events was to display the beauty of Falun Dafa, to expose the Chinese Communist Party's brutal persecution and organ harvesting atrocities, and to support the millions of Chinese people who have withdrawn from the Communist Party and its affiliated organizations. The activities raised the awareness among local residents and many people signed a petition against the persecution. Some Chinese people passing by the event were also attracted and several withdrew from the CCP.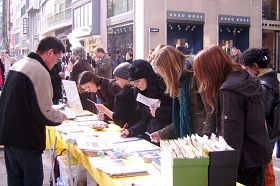 Falun Dafa practitioners organized information day events in Tubingen and Stuttgart. Many passersby learned the truth and signed to support the petition against the persecution in China.
On October 30, Falun Dafa practitioners hosted an information day event at Kings Blvd. in Stuttgart, near Baden Wurttenburg Palace. In was a fine autumn day. Hundreds of visitors and local residents were passing by. Practitioners demonstrated the exercises and passed out fliers. Many people were attracted by the beautiful movements and watched for a long time. Some read the display boards and talked to the practitioners.
People are eager to know why the Chinese Communist Party persecutes Falun Gong. They can't understand why a group of people doing exercises and trying to better themselves is persecuted.
One resident talked to a practitioner and remarked that some of the pictures were too scary to display in public. The practitioner explained to him that such horrible things are happening every day in China. The purpose of displaying the pictures is to stop such horrible things from happening in China, in hopes that all mankind will help to stop the Communist Party. He said he understood and then signed the petition.
Some people were very interested in the Falun Gong exercises and followed the demonstration. A little girl was imitating the movements and a practitioner stepped in to teach her. Her mother smiled and thanked the practitioner.
Some Chinese tourists and some local Chinese people came to the information desk. Some asked for some materials to bring back to China, some watched the exercise demonstration, and some wanted to learn more about Falun Gong. Several Chinese immediately announced their withdrawal from the Chinese Communist Party and its affiliated organizations. One of them was a student who came to Germany one year ago. She learned about the persecution when she lived in Changchun. She happily withdrew from the CCP and its affiliated organizations.
Practitioners organized a similar event in Tubingen, a university city, on September 25, 2010. Even though it was a rainy day, people watched the practitioners' exercise demonstration on Holzplatz Square for a long time. Three Germans told a practitioner that they had traveled to Tibet and learned the truth of the persecution of Falun Gong on their trip.