Taiwan: Kaohsiung City Council Calls on Denial of Entry to International Criminal Suspects (Photos)
October 17, 2010 | By Clearwisdom Correspondent Hsin Yue
(Clearwisdom.net) On October 11, 2010, Kaohsiung City Council passed a bill "Calling on the central government to prohibit entry of human rights criminals. Human rights cities do not invite, welcome or receive human rights villains." The bill was proposed by Mr. Kang Yu-chung, co-signed by three members and unanimously passed in the council. At 10:30 am on October 15, 2010, a press conference about this bill was held in front of Kaohsiung City Council Hall.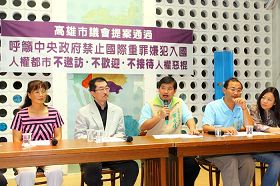 Kaohsiung City Council Member Hsiao Yung-ta speaks at a press conference on October 15, 2010 about the bill "Calling on central government to deny entry of human rights criminals" that was unanimously passed in Kaohsiung City Council. Member Huang Po-lin (second from right) presided over the conference.
Kaohsiung City Council passed the bill urging Mainland Affairs Council and the Immigration Department in Taiwan's central government to investigate if Chinese Communist Party (CCP) officials who apply to visit Taiwan are violators of human rights. If there is evidence, the suspects, no matter how high their ranks are, should be listed as unwelcome people and denied entry. International criminal suspects should not be given entry permits. The bill also asked Kaohsiung city government at each level and non-governmental organizations to not invite, welcome or receive any CCP officials who violate human rights.
City Council Member Kang Yu-chung said, "The CCP persecutes Falun Gong brutally. The bill also targets other human rights violations. I admire Falun Gong practitioners who keep steadfast effort on their belief and human rights.
The bill explained that during the frequent commercial trade between China and Taiwan, quite a few CCP officials visiting Taiwan were sued in civil suits or criminal charges outside China for their violations of human rights, or sued in Taiwan right after their entry by non-governmental organizations or individuals for their violation of international human rights conventions.
For example, Huang Huahua, Guangdong Province Governor, Zhao Zhengyong, Shanxi Province Acting Governor, Wang Zuoan, Director of CCP National Bureau on Religious Affairs, and Yang Song, Secretary of Hubei Province CCP Committee were sued during their visiting in Taiwan by Taiwan Falun Dafa Association for their crimes of genocide and violation of International Convention on Civil and Political Rights. The lawsuits were filed to High Prosecutors Office.
Cheng Chi-mei from Falun Dafa Association said, "Many CCP officials participate in the persecution of Falun Gong practitioners. But in Taiwan they are treated as high level guests. It is disgraceful. We call all righteous people to work together to stop the CCP's persecution of Falun Gong."
Ms. Shao Yuhua from Huanan Province, China, who married a Taiwanese eleven years ago, narrated her experience. In July 2009, she returned to mainland China to visit her parents. Security police arrested her, ransacked her parent's home, and took all cash, her passport and luggage like robbers. She was rescued back to Taiwan after Taiwan's condemnation of CCP violations of human rights and attention from the media.
City Council Member Chou Ling-wen said, "China is a focus of the world economy, but is also a wild land in human rights. Many Taiwanese people do not know about CCP atrocities. So it is necessary to ask the Taiwan government to check. Also I support Falun Gong practitioners for their efforts in spreading the facts to Chinese visitors at tourist destinations."
City Council Member Huang Chao-hsing said that one must stand up to support Falun Gong facing brutal persecution. Member Cheng Hsin-chu said he admired Falun Gong practitioners and said, "Someday, justice will come."
Professor Yang Shuo-ying of Sun Yat-sen University said, "The primary condition of a healthy organization is openness. But the CCP has full control of speech, thought, belief and freedom etc. Kaohsiung City Council passing such a bill takes moral courage. We should applaud them."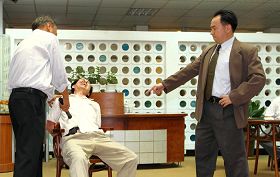 Re-enactment of one type of torture faced by Falun Gong practitioners in China
A re-enactment of one type of torture faced by Falun Gong practitioners in China was performed at the press conference,