Mr. Jiang Shanliang and Ms. Tong Li from Shenzhen Face Trial (Photo)
Name: Tong Lin (wife, 童琳) and Jiang Shanliang (husband, 蒋善良)
Age: Ms. Tong, 34
Address: Haiwan Mingzhu Garden, Xi Township, Bao'an District, Shenzhen City
Occupation:
Date of Most Recent Arrest: September 12, 2009
Most recent place of detention: Jiuwei Detention Center in the Bao'an District, Shenzhen City (深圳市宝安区九围看守所)
City: Shenzhen
Province: Guangdong
Persecution Suffered: Imprisonment, home ransacked, interrogation, detention
Key Persecutors: Judge Chen Jinming, Assistant He Yan
(Clearwisdom.net) Mr. Jiang Shanliang and his wife Ms. Tong Lin were recently married and live in Xi Township, Bao'an District, Shenzhen City. Ms. Tong is from Hubei Province. She found a good job due to her outstanding work performance and talent. She is friendly and the company staff think highly of her. Ms. Tong and another Falun Gong practitioner were arrested on the afternoon of January 12, 2008 at the Futongcheng Residential Area in the Bao'an District. Officers from the Bao'an District Police Department 610 Office took them to the Bao'an Detention Center. Ms. Tong was released in early 2009.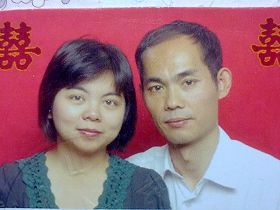 Ms. Tong and her husband were arrested at home at around 1:30 p.m. on September 12, 2009. Participating in the arrest were officers from the Gongle Police Station, from the 610 Office and from the Bao'an Police Department. They confiscated two computers, a printer, books, discs and other items.
The couple is currently being held at the Jiuwei Detention Center in the Bao'an District. The authorities were scheduled to try them at the Bao'an District Court at 9:30 a.m. on January 18, 2010. Their families have hired a lawyer to defend them. Officials from the Shenzhen City 610 Office and the Luohu District Police Department attempted to stop the lawyer from defending the practitioners by threatening to cancel his license.
Judge Chen Jinming, 86-755-29997152; Assistant He Yan, 86-755-29997737.
Bao'an District Court address in Shenzhen City: No.3, Jian'an Street 1, Bao'an District, Shenzhen, zip code 518101
January 9, 2010