Little Two-Year-Old Guoguo Longs for Her Mother in Tears (Photos)
Name: Xie Peiyu (谢培玉)
Gender: Female
Age: N/A
Address: Wuhan City, Hubei Province
Occupation: N/A
Date of Most Recent Detention: August 4, 2009
Most Recent Place of Detention: Unknown
City: Xiaogan
Province: Hubei
Persecution Suffered: Illegal Detention
(Clearwisdom.net) Little Guoguo recently turned two years old. Her home is nearby the populated Huanghe House and Yangtze River. She has not seen her mother for a long time and does not know her mother's whereabouts. Only her elderly grandmother is by her side.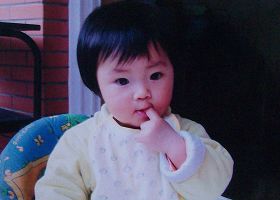 Two-year-old Guoguo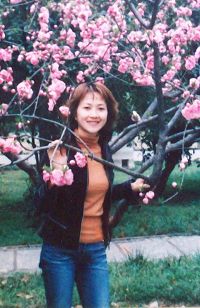 Ms. Xie Peiyu
Shortly after Guoguo was born, her parents divorced. Her mother, Ms. Xie Peiyu had a breakdown afterwards and was severely ill. She almost lost her eyesight and hearing. During this hardship, she was fortunate to find Falun Gong. The Buddha light of Truthfulness-Compassion-Forbearance helped Guoguo's mother understand the meaning of life. Since then, she has started to cultivate herself; both her mind and body became healthy. Guoguo, her mother, and her grandmother lived a happy life.
Guoguo's mother has benefited greatly from practicing Falun Gong. She could not understand why such a good practice has been persecuted for over ten years. She often told people around her, "Falun Gong teaches people to become truthful, compassionate and tolerant. Falun Gong is good and has saved me and my family!"
However, the Chinese Communist Party (CCP) does not like hearing these words. When people heard her speak, some of them believed her and some did not. Some people did bad things because they were deceived by the CCP.
On August 4, 2009, when Ms. Xie was speaking to people about the truth of Falun Gong, she was reported to the authorities. The police from the Wangjiadun Police Station of Wuhai City, Hubei Province arrested her. They held her at a detention center for 15 days. Then she was transferred to a brainwashing center because she refused to renounce Falun Gong. Her whereabouts now are unknown.
On August 20, 2009, Guoguo and her grandmother went to the Wangjiadun Police Station to find out her whereabouts. Little Guoguo politely said "hello" to the police officers. Some of them showed their sympathy when they saw her. They told them that her mother had been taken away by the officials from the Jianghai District 610 Office.
Now, Little Guoguo often asks her grandmother in tears, "Where is mother? Where is mother? I want my mother!" Grandmother has to hold her tears back.
It was reported that after the police from the Wangjiadun Police Station arrested Ms. Xie, she was detained in the Erzhigou Detention Center for 15 days. Around August 18, she was sent to the Jianghan District Brainwashing Center in Wuhai City. On August 20, Ms. Xie's mother called the Jianghan District 610 Office. She asked the director, Shu, of her daughter's whereabouts. He said that she was transferred to Xiaogan City but refused to disclose the exact location.
Wangjiadun Police Station: 86-27-83620577
Jianghai District 610 Office: 86-27-85481692, 86-27-85481802
Shu (given name unknown), the director of the Jianghai District 610 Office: 86-13886024447 (Cell)
August 27, 2009