New York: Divine Land Marching Band Performs at Fort Hamilton (Photos)
(Clearwisdom.net) On September 19, New York Divine Land Marching Band was invited to participate in an art festival held at US Army Base Fort Hamilton. This is the very first time for practitioners to promote Falun Dafa there.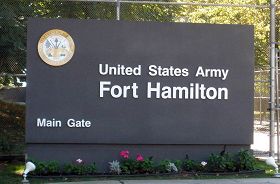 Gate of Fort Hamilton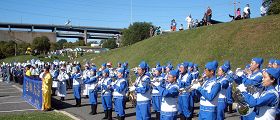 Divine Land Marching Bands performed "Falun Dafa is Good" and "America the Beautiful"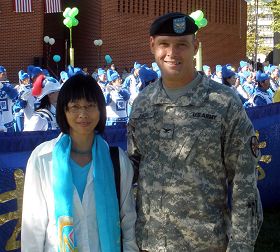 Base commander Colonel Steven Smith and a Falun Gong practitioner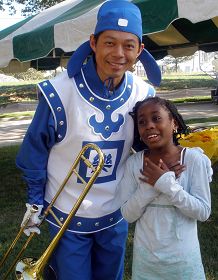 Marie enjoyed the Divine Land Marching Band
The uplifting performance, beautiful Tang attire and the grand procession of the Divine Land Marching Band gave the audience at the army base an eye-opening experience. Ms. Li, wife of an army officer, was excited and gave it high marks, "The Divine Land Marching Band is the best among all the marching bands. I felt their strong energy, really strong energy." A little girl named Marie fell in love with the band and followed it around for a long time.
Base Marketing Director Matthew Gierber was the organizer of the festival, and he praised the band, "I have never seen such a professional band. From beginning to end, every sound was in harmony. Even their smiles were the sweetest when they were not performing."
Turkish restaurant owner Ender complimented the band as well, "As soon as the band started to perform, all my folks went out to watch."
Fort Hamilton is located in the beautiful New York Bay in Brooklyn, and there are over 300 army families in the base. Base Commander Colonel Steven Smith said, "We hold this festival to express our respect for the men and women in the armed services. It was great that our family members could hear the beautiful music performed by the Divine Land Marching Band."