My Mother Hu Qili's Story
September 21, 2009 | By Hu Qili's Daughter
(Clearwisdom.net) My mother's name is Hu Qili. She is 48 years old. She formerly worked at the Shuangyashan Mining Bureau's First Construction Company Hospital (now Fangyuan Hospital) in Heilongjiang Province. She went to Beijing to appeal for Falun Gong on November 21, 1999, and was fired by the hospital director Mou Lingqin and Communist Party Secretary Li Qinghua two days later. During the last ten years, my mother has been illegally detained three times and sent to a labor camp twice. She is again facing sentencing.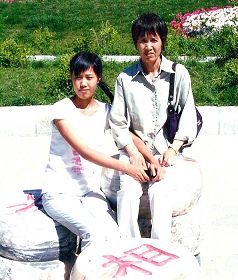 Photo of Hu Qili and her daughter
Beginning to practice
One day in 1996, my mother went to Yishoushan Park to exercise. She saw a board that read, "Falun Dafa: Truth, Compassion, Forbearance." She was drawn to the principles and began practicing.
She followed the principles of Falun Dafa and strove to do well. Although she worked in a hospital and it was easy to prescribe medicine for herself, she has not done it since she started practicing. Her excellent work ethics won praise from managers and co-workers alike.
Persecution
After the Chinese Communist Party began persecuting Falun Gong in 1999, like millions of others, our family has suffered ten painful years. The persecution is continuing today.
My mother was arrested for the first time when she went to Beijing to appeal for Falun Gong on November 21, 1999. She was detained at the Xicheng Detention Center for 17 days.
After she returned home, she was told that hospital director Mou Lingqin and CCP secretary Li Qinghua had fired her during her absence. Since then, she has worked hard to make ends meet.
The second time she was arrested, she was detained at the Shuangyashan Mining Bureau's Detention Center. I still remember vividly the day she returned home. She was extremely emaciated, and her hair had turned white. Her eyes became deeply set, and her lips were purple. She hardly had the strength to speak.
Sh was detained for the third time in September 2001. She was in detention for 58 days at the Shuangyashan Municipal Detention Center, from September 6 to November 3, 2001.
She has also been sent to the Jiamusi Labor Camp twice. The first time was when she went to Beijing to appeal for Falun Dafa on July 2, 2000. She was arrested and sent to the labor camp for one year by police from the Shuangyashan Public Security Bureau.
The second time happened on my birthday. It was February 20, 2002. My mother was preparing for a birthday celebration for me when four policemen came and took her away by force. She was sent away for two years in labor camp. During these two years, she was tortured by guards and criminals. Everyday, she was forced to sit on a round stool with three bumps for 17 to 18 hours. She was also forced to watch videos slandering Falun Gong. Because she refused to give up her faith, she was handcuffed from behind for several days and suffered a great deal.
Currently she is again faced with a new sentence. At approximately 8 p.m. on July 20, 2009, four or five policemen led by Director Li Hongbo and Zhuo Aimin of Shuangyashan Public Security Bureau's Lixin Police Station tricked us into opening the door by saying they were there to collect a fee. After we opened the door, they told us to freeze and ransacked our home without showing a warrant or any identification. We were not even allowed to go to the bathroom. They took our personal property including jewelry, a cell phone, and more than 400 yuan in cash. They also took away my mother, and has held her at the Shuangyashan Municipal Detention Center. She has been officially arrested and will be sentenced soon.
I am sharing her story because I wish to tell people that the persecution against Falun Gong is actually a persecution against the nation's conscience. The spirit and future of the nation are being destroyed!
I cannot fully describe my mother's suffering. The type of physical and mental torture can only be understood by those who have personally experienced it. My mother's story is only the tip of an iceberg of all the suffering by the persecuted Falun Gong practitioners.
Related article:
Ms. Hu Qili Arrested and Sent to Forced Labor Camp for the Second Time (Photo)
http://clearwisdom.net/html/articles/2009/8/10/109929.html