Toronto, Canada: Rally Held to Support 60 Million Chinese People Quitting the CCP and Its Affiliated Organizations (Photos)
September 16, 2009 | By Minghui reporter Xiangrui
(Clearwisdom.net) On September 13, the Service Center for Quitting the Party in Toronto held a rally in Toronto's Chinatown to support the 60 million Chinese who have quit the Chinese Communist Party (CCP) and its affiliated organizations. Many local Falun Gong practitioners attended the rally, calling upon people to recognize the evil nature of the CCP.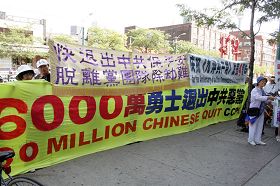 The rally
Ms. Jia, a Falun Gong practitioner who just came from China not long ago, stated, "As far as I know, the number of 60 million only includes those who quit the party and registered with ther Epoch Times newspaper. There are a lot who quit the party but never registered, and in China, manyh more have accepted the informational materials about quitting the party."
Ms. Jia said: "Although the CCP suppresses Falun Gong, they cannot stop practitioners from clarifying the truth. In the last ten years, practitioners have spread the information about Falun Gong to millions people. We have also distributed materials about quitting the party. In my city, we went to almost every residential building. Although the government installed video cameras in the buildings, we can always figure out how to avoid them. In the suburban areas, we also delivered materials to almost every house."
Ms. Jia said: "Many people have woken up and recognized the evil nature of the CCP. A few years ago, many people did not believe what I said about Falun Gong, but now they tell me Falun Gong is good and the CCP made propaganda to slander it."
Mr. Qu, a resident of Toronto, watched the rally. He said: "Many Chinese people know that the CCP is bad and getting worse. The Chinese society is corrupt. I have seen too much in China."
"To be honest, I didn't know much about Falun Gong. I believed the CCP's propaganda, and didn't like Falun Gong," Mr. Qu said. "But gradually, I was moved by Falun Gong practitioners' compassion and spirit. They keep explaining the truth, passing out flyers while being persecuted over the last ten years. I know a practitioner, and learned that many practitioners are highly educated people."
Mr. Qu said: "I read The Epoch Times every day. It tells the truth. That is its characteristic. I believe people quitting the party is a good way for China to change peacefully."