Toronto, Canada: Human Rights Forum Tour Pays Close Attention to Falun Gong (Photo)
September 16, 2009 | By Minghui correspondence Ye Minghui
(Clearwisdom.net) On September 13, 2009, B'nai Brith Canada and One Free World International held the Canada Interfaith Human Rights Circuit Conference in Toronto. The Toronto Airport Christian Fellowship co-sponsored the event. Representatives from four regions told about their experiences of persecution. The head of the Falun Dafa Association in Canada spoke at the forum as a representative of the Coalition to Investigate the Persecution of Falun Gong (CIPFG) and had a discussion with the audience members.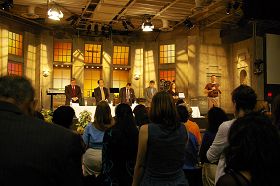 A representative from CIPFG participated in the Canada Interfaith Human Rights Circuit Conference held in Toronto on September 13, 2009.
Li Xun, representative of CIPFG, described how Falun Gong practitioners in China have been tortured during the past ten years of persecution. The persecution includes unlawful arrests, torture, sexual violence, and killing. There are over 100 documented means of torture used on Falun Gong practitioners, including electric shock, scorching practitioners with red-hot cast iron, and force-feeding, and driving sharp, bamboo toothpicks under their fingernails.
Li also mentioned that the Chinese Communist Party (CCP) was involved in removing internal organs from living Falun Gong practitioners against their will and selling them for profit. Canadian MP David Kilgour and human rights lawyer David Matas completed an independent investigation report in2006. (see http://organharvestinvestigation.net/) The report pointed out that many state hospitals in China were making enormous profits out of Falun Gong practitioners' organs.
Though Falun Gong practitioners have suffered tremendous mental, physical, and financial persecution over the past ten years, they have not given up their belief, said Li. The practitioners continue to protest and to tell people about the persecution in peaceful ways. "The practitioners fight the evil with justice and bring hope to mankind," said Li, "We see Falun Gong scrupulously abide by Truth-Compassion-Forbearance even in such adverse situations. The power of faith allows people to see hope despite the brutal persecution."
From the audience feedback, Li said that he saw people that with faith could quickly understand Falun Gong. The audience knew that besides Falun Gong, Christianity and Islam are also suppressed in China.
Dr. Frank Dimant, Executive Vice President of B'nai Brith Canada and CEO of the organization's Institute for International Affairs, said that common concerns for human rights brought everyone together. Before Toronto, this conference was held in Ottawa and Montreal. It will be held again in Vancouver on September 24, 2009. The sponsors are considering holding similar human rights forums in other regions.
"We believe China should be like other places in the world. It should allow people to have free souls and to pursue their faiths freely," said Dr. Dimant.