"Absolutely Phenomenal" (Photo)
(Clearwisdom.net) On August 2, Shen Yun Performing Arts held a show at the Performing Arts Center, SUNY Purchase College in Westchester, New York. Ms. Howard, owner of a New York City youth organization, attended the show. She was with Mr. Farzan, who works for a business publication that is a sponsor of the 2009 Shen Yun World Tour.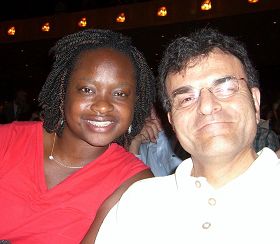 Ms. Howard and Mr. Farzan
Ms. Howard called the show "absolutely phenomenal." She said that she would encourage anyone to come and support the New York company's efforts to rediscover and renew China's cultural heritage.

"The art is beautiful and needs to be recognized," Ms. Howard added.

She said that she enjoyed each aspect of the Shen Yun show, such as the gorgeously costumed dancers moving in synchronized patterns, state-of-the-art digital backdrops, and the groundbreaking music of Western and Chinese composition.

Story-based dance is a trademark of Shen Yun and one piece in particular stood out to her, Heaven Awaits Us Despite Persecution. This piece focuses on the suppression of human rights in China today when a father is tortured to death, leaving behind a broken family. The story offers hope and bespeaks of an ancient Chinese belief that good will be rewarded and evil punished, even if not in this lifetime.

Ms. Howard marveled at how the backdrop scenes showed celestial beings flying down to earth to carry him back to the heavens, where he takes his place amongst them. "It was really beautiful the way they choreographed the dance, as well as the performance."

Ms. Howard was enthused about the singing. "Oh my goodness! The female singers, as well as the male singers have voices that are out of this world. I mean it's phenomenal. The wording is very nice, very kind and you can definitely understand the struggle, the triumphs and trials and tribulations that they are going through. We can all relate to the struggle through their song, which is really great."

Mr. Farzan thought the choreography was amazing. "I like the chopstick dance, beautiful, beautiful. And then the last piece, the drums. Very well choreographed and the movements are just incredible, incredible."

He said that Shen Yun reveals Chinese art not seen in the West and exposes a side the Chinese government would like to hide.

"In a way you [Shen Yun] are representing a culture that is suppressed in China and now this helps us get to know China better."