New York: Third Chinese International Vocal Competition Successfully Concludes (Photos)
August 06, 2009 | By Minghui reporters
(Clearwisdom.net) After three days of intense competition, the sixteen bel canto award recipients of the 2009 NTDTV Chinese International Vocal Competition were revealed on Sunday evening, August 2, in the Gerald W. Lynch Theater. The award ceremony took place at the end of a show by Shen Yun Performing Arts, a New York-based Chinese dance and music company, in Westchester, New York. Yuan Qu, a tenor from New York, won the gold in the male division, and Haolan Geng, a soprano from China, won the gold in the female division.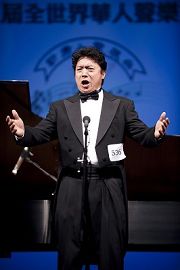 Yuan Qu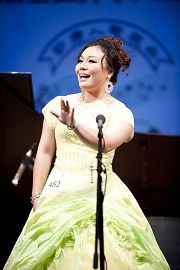 Haolan Geng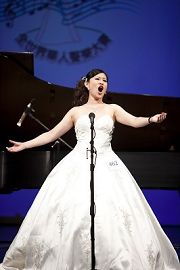 Li Yuru, silver award winner in the female division
Yuan Qu took part in the Second Chinese International Vocal Competition last year, and won the bronze medal. He is a member of Shen Yun Performing Arts and toured around the world with the arts troupe last year. He said that he has improved his skills while in the arts troupe.
Haolan Geng is from China. She said, "This vocal competition is so different from those in China, because it promotes pure, traditional musical forms. In China, in order to ascend in a vocal competition, you need to have money and connections. I was often eliminated from those competitions in the preliminary round because my family did not have the money."
Shen Yun Performing Arts show in Westchester, New York
On the evening of the awards ceremony, Shen Yun Performing Arts gave a show in Westchester, New York.
The attendees and winners of the competition expressed that the show was excellent. Chen Yunru, the bronze winner in the female division said, "It's wonderful. Chinese dance is unique." Alvin Tan, a contestant, said, "The music in the show was shocking. I had never heard traditional Chinese music played by western instruments. It was beautiful."
The show tickets were sold out. A few minutes before the show, there were still people at the theater box office hoping to obtain returned tickets.
List of winners:
Female Division:
Gold:
Haolan Geng, soprano, China
Silver:
Yu-Ju Lee, soprano, Taiwan
Bronze:
Ke Chen, soprano, Michigan
Jin Shi Wu, soprano, New York
Chia-Ling (Karen) Ho, soprano, Taiwan
Honorable Mentions:
Hui-Ju Chen, soprano, New York
Kai Yi Min, soprano, Taiwan
Yun-ju Chen, mezzo-soprano, New York
Chun-Ting Chao, soprano, Taiwan
Hsiao-Chien Chou, soprano, Minnesota
Male division:
Gold:
Yuan Qu, tenor, New York
Silver:
None
Bronze:
Yi Cherng Lin, baritone, Maryland
Chee Shen Tan, tenor, New York
Honorable Mentions:
Alvin Tan, baritone, California
Zheng Ning, baritone, New York
Jason Fuh, baritone, Ohio