Shen Yun Connects Asians with Their True Ancestral Heritage: "It Makes Us Very, Very Proud!" (Photo)
August 31, 2009 | By Clearwisdom staff
(Clearwisdom.net) The Shen Yun Performing Arts' show at the Kennedy Center thoroughly impressed Ms. Lung, a consultant with IBM, and her friend Mr. Lui, an IT manager at the International Monetary Fund. They saw the show for the first time on Saturday, August 29. "It was very outstanding; it blew away our expectations," said Ms. Lung. "It was gorgeous, dramatic, and also had a deep meaningful message that the audience could take away with them--very good!"
They joined the enthusiastic audience, who rose as one on all four levels of the theater, in a long standing ovation, requesting two curtain calls.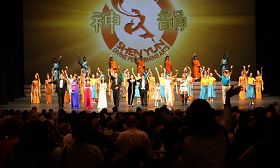 On the afternoon of August 29, the fourth show by Shen Yun Performing Arts concluded amidst warm applause
Ms. Lung, who is an American-born Chinese, said that she has never seen anything at this level and scale. They came to the show to celebrate their six-month anniversary. As Shen Yun will return to the Kennedy Center again in January with new programs, Ms. Lung said that they intend to make it their tradition to keep coming back.
"It makes us very, very proud, because growing up as an Asian-American, you don't really connect with that culture as much as you want. It's like it's missing from you, so to see the technique, the skill, the costumes, and the 5,000 years of history makes me feel so proud and enlightened. So I definitely want to go back and learn more about Chinese culture after seeing this performance. I want to learn more!" she exclaimed.
Mr. Lui, originally from Hong Kong, was likewise amazed. "I'm very amazed by the performance and the message, and the combination of dance and vocal and orchestras, they performed really well," he said. "Their facial expression is really good, we sat really in front and we could see that they not just dance, but their facial expression too."
Ms. Lung enjoyed the bel canto solo singing. "Because they had the poetry behind it--the message about living the life of a very noble person was very good. As well as the Monkey King [dance] was my favorite, because I grew up with that story. The characters were very comical and also very elegant," said Ms. Lung.
She was touched during tenor Hong Ming's encore performance, "Awaken," where he sang about how joy, status, and wealth only last you one lifetime, but enlightenment and truth is what lasts you from life to life or a thousand years. "So that was my favorite song," Ms. Lung said.
By watching Shen Yun, Ms. Lung gained a new understanding about "freedom of religion," while Mr. Lui had insights about "life and the journey."
They said that they both would highly recommend the show to their family and friends. "It's just gorgeous," said Ms. Lung. "It's just gonna blow you away. You can't really describe it in words; you just gotta go see it!"
Third Generation Chinese-American Gets in Touch With Cultural Heritage
Third generation Chinese-American and Vietnam war veteran Mr. Chow found the Shen Yun Performing Arts show a perfect way to get in touch with his roots. "I thought it was marvelous," he said after watching the performance at the Kennedy Center Opera House on Saturday evening.
"I can't tell you how impressed I was with the various forms of dance and [how] they demonstrate this discipline," said Mr. Chow, who is now a community activist in veterans issues.
"I can't tell you how much I appreciate this," Mr. Chow said. He went on to elaborate that because of his father's interest in China's cultural past, he has always had a great appreciation for ancient China's traditional arts.
Commenting on the different dance performances throughout the show, ranging from ethnic dances to ancient legends and contemporary issues, Mr. Chow said he was fascinated with "the scenes like the waterfall, scenes like the fairies, scenes like the Mongolian people with the chopsticks; that was quite impressive. The thing I liked about it was [that] they were able to be so graceful and still distinguished in their movements."
The show features classical Chinese dance, which was passed down throughout Chinese history. "It brought out the differences between male and female and yet they were so culturally attuned."