Toronto, Canada: Practitioners Participate in Caribana Parade (Photos)
(Clearwisdom.net) On August 1, 2009, the annual grand Caribana Parade was held along Lake Shore Boulevard in Toronto. It was estimated that 1.3 million people watched the parade. The Toronto Falun Gong group of 140 practitioners presented the Divine Land Marching Band, a dragon dance, a waist drum troupe and a "Boat" float.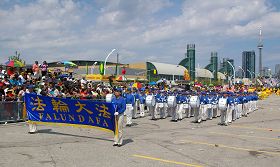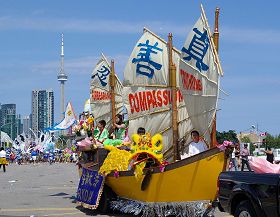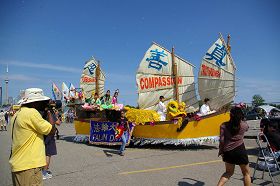 Falun Gong practitioners participated in the Caribana Parade
Kelvin, one of the parade organizers, said that the Falun Gong practitioners' presentation was terrific. He added, "No matter what themes we have next year, we will invite them."
Kelvin visited China two years ago, where he met a Chinese practitioner and learned about the persecution of Falun Gong. "I admired his courage as he risked his life to tell me about Falun Gong. He was a courageous man," said Kelvin.
In the past two years, the Divine Land Marching Band has been invited to perform as a guest band in the parade. This year, Falun Gong was invited to form a theme section.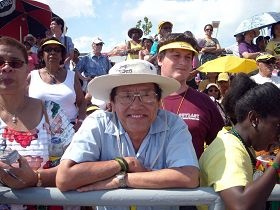 Toronto resident Stephen Chen
Toronto resident Stephen Chen said, "Falun Gong's procession is spectacular and gave me beautiful and deep impression. I admire them."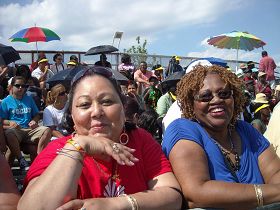 Toronto resident Marcia said, "My whole family is here today and it is our first time seeing Falun Gong. We are very excited. Their band was very resounding and powerful, the waist drums were full of energy, the dragon dance was very attractive, and their decorated boat was just beautiful. There were even people meditating on the boat, it was so beautiful."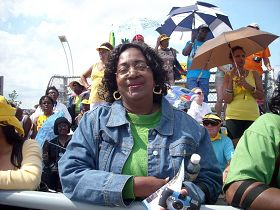 Norma from Los Angeles
Norma, from Los Angeles, is vacationing in Toronto. She said, "It is my first time seeing such a spectacular Chinese marching band and I am moved. Their performance added many beautiful moments to the parade."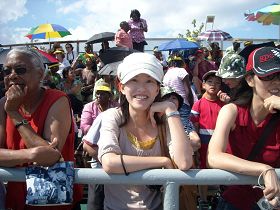 Tae from Japan
Tae, who comes from Japan, was surprised to see such a large Falun Gong procession, which she felt gave a marvelous presentation. "I love their music which was very beautiful and moving," said Tae.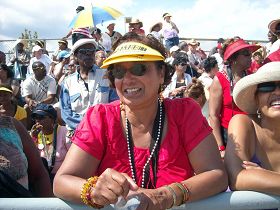 Toronto resident Angoinegge
Toronto resident Angoinegge said that this was also her first time seeing such a large Falun Gong procession. She said, "I have heard some news about Falun Gong on TV and in the newspaper. In this free country, they can demonstrate their beauty and I feel happy for them. I know that they are being persecuted in China, and I think any persecution should not exist because freedom is a basic right of everyone."