Eighth Austrian Fa Conference Successfully Held (Photos)
(Clearwisdom.net) On June 28, 2009, the eighth Falun Dafa cultivation practice experience sharing conference was successfully held at Linz, a city in central Austria. By means of this Fa conference, many practitioners found their own shortcomings and inadequacies in cultivation practice, and were motivated to be more diligent and catch up.
At the Eighth Austrian Fa conference, a practitioner shares his experience of cultivating in Falun Dafa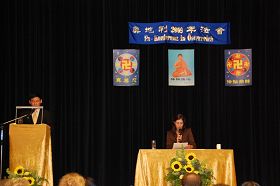 At the Eighth Austrian Fa conference, a practitioner shares her experience of cultivating in Falun Dafa
A practitioner shared his experiences during the period of the Shen Yun performances. As a major coordinator, he had looked within during conflicts, and saw his own notions and rectified them. While doing coordination work, he realized the importance of cooperation as one body.
Another practitioner spoke of how his elder sister began cultivating. Before becoming a practitioner, his sister knew that this year there would be a Shen Yun performance in Vienna. However, at that time she didn't really want to attend. In the following two weeks, she went as a tourist to China. When she was visiting Shaolin Temple, suddenly a monk saw her, and told her that she should go and see the Shen Yun performance. In the following month after seeing the Shen Yun performance, she obtained the Fa and became a Dafa practitioner.
A practitioner shared that while preparing for the Shen Yun performances, he experienced serious interference from sickness karma, but he persisted in studying the Fa and looking within, and saw many of his own attachments, then made a lot of effort to eliminate them. Moreover he steeled his will, let go of the fear of pain and suffering, and believed in Master and the Fa! Master helped him eliminate the sickness karma. He boldly and righteously went through this trial, and his family also once more witnessed the miracle of Dafa.
One practitioner was a music specialist, but he could not take part in the Shen Yun orchestra because of his family. Later, after seeing other fellow cultivators let go of personal gains and losses and take part in the Shen Yun orchestra, he felt very much at a loss. But later, another opportunity arose and he obtained a new mission of saving sentient beings, producing background music for the New Tang Dynasty TV station. Because Dafa helped him open up his resourcefulness and wisdom, he composed ten pieces of music in several days, which normally would have taken more than a month or even longer to do.
Some new practitioners also shared their experiences at the Fa conference. The participants expressed that they found their inadequacies and shortcomings in cultivation from the Fa conference, and said that hereafter they would be even more steadfast and diligent.