Parade Spectators Moved by the Practitioners' Heartfelt Smiles (Photo)
(Clearwisdom.net) On June 6, 2009, about 6,000 Falun Gong practitioners from across the world held a grand parade on Sixth Avenue in Manhattan, New York. Many spectators were touched by the practitioners' kindness.
"Why is a person not allowed to be good in China?"
Ms. Magdalene from Sweden participated in the parade. She started practicing Falun Gong in 1995. She said, "At the beginning, I felt the practice was very good. But it is not easy when you have to really follow the principles. After practicing, I experienced big changes. I did not know how to be a good person. Now I understand only practicing to be a good person can make one's health better. I know the relationship between mind and body."
"Such a good practice is being persecuted in China. Practitioners who try to be good people by following Truth-Compassion-Forbearance are being persecuted. It is terrible. Everyone should have the right to live by these principles. Why is a person not allowed to be good in China?" she said, "My father was a manager of a big enterprise in Hungary. Since he did not want to join the communist party, he could not continue working in the company. Thus fifty years ago, my father brought our whole family to Sweden. I am very happy that my father renounced the communist party fifty years ago."
Coming from far away to let people know the facts
Ms. Chris from Germany has practiced Falun Gong for several years. She said that she had sought a good practice among various schools for decades. Finally she found Falun Dafa, which is profound and can bring one to a high level. After practicing, she has become healthy and more focused.
She said that she came to New York to explain the facts to Chinese people and to participate in the cultivation experience sharing conference. She said, "I have been here for two weeks and distributed many flyers to Chinese people. There are many Chinese people here. I believe that the more we do, the better the effect."
Falun Gong practitioners are working for everyone's freedom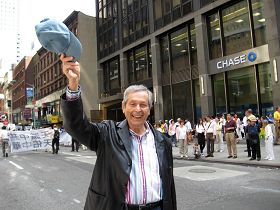 Louis Srybnik, a well-known film maker
Louis Srybnik, a well-known film maker, watched the parade on 42nd Street and said that Falun Gong practitioners were very good people. Falun Gong practitioners work for everyone's freedom, for China, and the world. Falun Gong is peaceful and valuable.
I felt the parade's positive energy
Gary Evans is a New York resident. He said that he had heard of Falun Gong before. In the morning, a practitioner told him about the persecution of Falun Gong in China. He was shocked. He said that he watched the parade and felt its positive energy. He mentioned that China's human rights record is very poor. Just like the Tiananmen Square massacre, the CCP covers up the facts. He said that he was pleased that Falun Gong practitioners are doing this so that everyone would know.
Heartfelt smiles
Olga is from Russia and has lived in New York for 15 years. She said that she did not know Falun Dafa well before. She was touched by how the practitioners in the parade had such heartfelt smiles as they participated in the parade. She said, "I saw the banners showing Falun Dafa spreading across the world. It's great! I am very pleased that you are having such an event."
I feel like one of the group by standing in the procession
Mr. Jiang and his friend do not practice Falun Gong. They stood in the procession and hoped to join the parade with the practitioners. Mr. Jiang said, "Standing in the procession made me feel as if I were one of them. I know many Falun Gong practitioners. They are very kind people, not at all like what the CCP's propaganda in China says."