New York Parade Spectators: "We're With You" (Photos)
June 08, 2009 | By Zhou Rong
(Clearwisdom.net) The bustling 5th Avenue of Manhattan, New York woke up on the morning of June 6, 2009 to the peaceful Falun Gong exercise music. Huge banners reading "Falun Dafa is great" and "Truthfulness-Compassion-Forbearance" were unfurled one after another. Practitioners in golden yellow exercise suits demonstrated the exercises, drawing attention from many tourists and local people.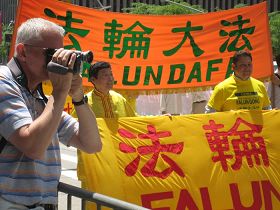 Falun Dafa parade draws attention from spectators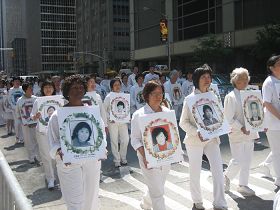 Mourning practitioners who have been killed in the persecution by the CCP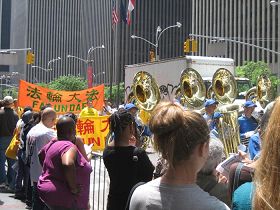 Spectators watching the Falun Gong parade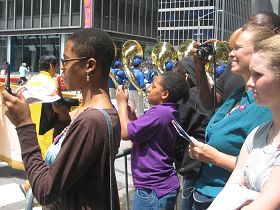 Taking photos to record the magnificence of Falun Dafa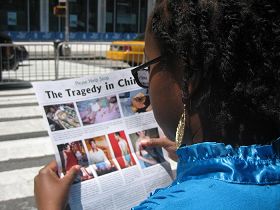 Reading Falun Gong truth-clarification materials
"Is this Taichi?" Dian and her husband, tourists from the UK who have been to China before, asked curiously. Alex, a university student enthusiastically took photos to record the event. Unix from France and a musician from Mexico quietly watched. Fobe and Elena from Belgium discussed the parade enthusiastically, using animated hand gestures. When they learned that the peaceful Falun Gong practitioners in front of their eyes are suffering brutal persecution by the Chinese Communist Party (CCP) in China, they felt it unbelievable. They took Falun Gong truth-clarification materials and said that they would visit the website to learn more about Falun Gong.
Practitioners from around the world gathered in New York. A parade of thousands of practitioners was ready to start in Manhattan. The theme of the parade was "Call for Justice and Stop the Persecution." Led by the Divine Land Marching Band, the four sections of the parade procession created a stately scene on Madison Avenue. The first section was themed, "The wide spread of Falun Dafa," the second section was "Enduring suffering in China," the third section was "Disintegrate the CCP and stop the persecution," and the last section was "Falun Dafa is great."
Along the parade route, from time to time spectators applauded or gave a thumbs-up gesture to express their support. Some spectators shouted enthusiastically, "Good luck, we're with you!" An elderly man used his cell phone to record every word on the banners and practitioners' exercise movements. After talking with him, the reporter learned that the elderly man is of Russian descent who has been living in New York for twenty years.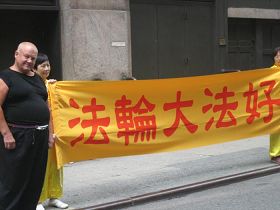 A New York resident of Russian descent supports Falun Dafa

He was a police officer during the Communist rule in the former Soviet Union. He has known about the CCP's persecution of Falun Gong because he was invited to visit China's prisons. He said that the prisoners there were treated extremely cruelly, and they may get killed at the whim of the authorities. He said that he had no doubt about the CCP's organ harvesting from living Falun Gong practitioners.
He is supportive of practitioners' peaceful and rational appeal to call for an end to the persecution. He said that he would record with his cell phone today's parade and mail it to his friends in Europe, so that more people will know about today's grand event.
The first section, "The wide spread of Falun Dafa," included more than three hundred practitioners from Taiwan. They are from all walks of life, including company managers, lawyers, accountant, judges, physicians, designers, journalists and retired government officials. They made the long trip to New York from Taiwan in order to appeal to the international community to show concern and immediately stop the decade-long brutal persecution of Falun Gong. They took to the streets in New York, telling people that Falun Dafa is great, by sharing their experiences of having benefited from practicing Falun Gong.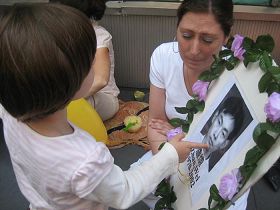 Anna shed tears as she said, "I hope the persecution is immediately stopped and will no longer happen."
Anna and her mother, and her elder sister and niece from Germany have participated for the sixth year in a row in calling for an end to the CCP's persecution in New York. She said that it was what she should do as a Falun Gong practitioner. When asked by a little girl who pointed at the photo of a practitioner who had died as a result of the CCP's persecution, she shed tears, saying she hopes that the persecution will be immediately stopped.