Mr. Chang Guiyou Dies in Custody (Photo)
(Clearwisdom.net) Mr. Chang Guiyou's wife exposes below the mistreatment Mr. Chang suffered and his death while in custody.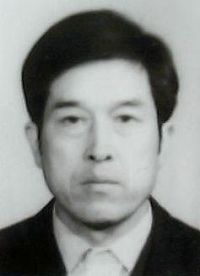 Mr. Chang Guiyou
My name is An Xiuzhi, and I am Chang Guiyou's wife. Both of us began to cultivate in Falun Gong in 1997. After that, we followed the principles of Truthfulness-Compassion-Forbearance, stopped acting pettily, and began gladly helping others. At the same time, our health improved greatly. Falun Dafa brought to us this good fortune and these benefits.
In July 1999, the Jiang regime started the persecution of Falun Gong. Both Falun Gong and its practitioners suffered injustice. In 2000, Chang Guiyou went to the appeals office to clarify the facts about Falun Gong and its numerous practitioners. As a result, he was detained in the Tongzhou District Detention Center, and was subsequently dismissed by the paper mill. His permanent employment contract was forcibly terminated.
On January 2, 2001, Chang Guiyou was arrested by officers from the Tongzhou District 610 Office and the State Security Division, and detained in a detention center. Our home was searched and our property was confiscated. He was sentenced to eighteen months of forced labor. In the Tuanhe Forced Labor Camp, he almost died due to the intense persecution. After being released, his health was extremely poor, and he was unable to work.
In March 2004, he was taken to a brainwashing center. Our home was raided again by the police while no one was at home. I was also arrested.
In June 2004, Chang Guiyou was taken to the Tongzhou District Detention Center. Then he was sentenced to three years of imprisonment. In late November 2004, he was taken to the Qianjing Prison in Tianjin City.
Three months later, in March 2005, while detained in Beijing City Women's Prison, I was notified that my husband was critically ill. Both his nose and mouth were bleeding, and his head was wrapped with gauze. I tried to step forward to see him better, but I was stopped by the guards. Later, I was notified that he died of a cerebral hemorrhage.
After being detained in the Qianjing Prison for three months, my husband died of brutal persecution at the age of 55.
In the CCP prisons and labor camps, news about the persecution of practitioners has been strictly blocked. Our family is still unclear about how Chang Guiyou died. Many practitioners are subjected to the CCP's brutal persecution. We call for kind people around the world to pay attention to the inhuman persecution of Falun Gong in China and stop the CCP atrocities.
Related report: http://www.clearwisdom.net/emh/articles/2007/3/18/83643.html