Four Shows Play to Capacity Crowds in Tainan City (Photo)
(Clearwisdom.net) The Shen Yun Divine Performing Arts International Company continued to display artistic excellence in the Municipal Cultural Center in Tainan City. Audience members passed the news from heart to heart, with the result that all four shows were totally sold out. Many officials and celebrities in the field of business and the arts, including people from Mainland China, came to enjoy the show. The beautiful and benevolent performances drew standing ovations from enthusiastic audiences.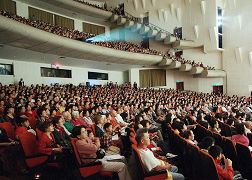 A full house for each show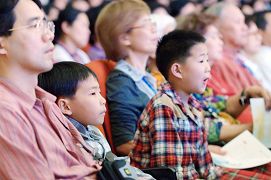 Audience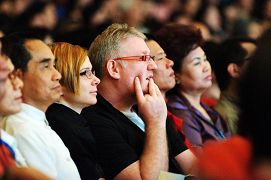 Audience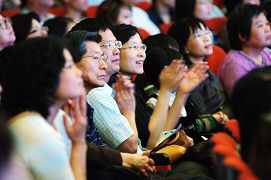 Audience
Tainan County Commissioner Mr. Su Huanzhi: Shen Yun Is Mind Medicine during the Economic Depression

Mr. Su Huanzhi and his wife, Guo Chunhua
Mr. Su came to see Shen Yun for the second year. He said, "Shen Yun is so wonderful. I want to enjoy this two and a half hours calmly and wholeheartedly. Shen Yun encompasses a large domain, the entire Chinese culture. But, more importantly, it is fully manifesting the best extracts of Chinese culture, music and art, and dance. The Buddha laws that Shen Yun projects can help people increase their ability to endure difficulties. Currently the economy is so depressing, putting individuals and their families under lots of pressure. Watching Shen Yun has a calming effect, because it is a prescription for depressed minds."
Mr. Su's wife praised Shen Yun, "It is a world class performing arts company, very high caliber, far exceeding all other performing arts' shows. Shen Yun's expressiveness and costume styles are fantastic and filled with profound meaning."
Tainan County Deputy Commissioner Yan Chunzuo: Shen Yun Absolutely Can Turn Hearts to Goodness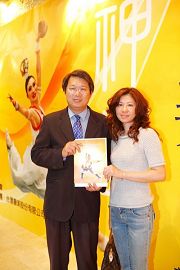 Tainan County Deputy Commissioner Yan Chunzuo and his wife
Mr. Yan and his wife have seen the show twice now, but he said this year's show moved him even more. He highly commended the costume designs, choreography and the dynamic stories that help people learn about Chinese culture. He was certain that his thoughts would be echoed by the Chinese community all over the world. He is convinced that Shen Yun can bring back people's sense of morality, and that this will provide a solution to the world economic disaster. Mr. Yan is a physician. He thinks music can reduce pain and is itself a medicine.
Kuomintang Tainan County Deputy Secretary Chen Jung Siong: Very Exquisite, World Class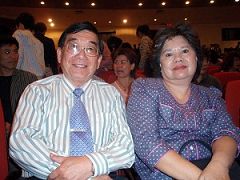 Mr. Chen and his wife
Mr. Chen could not stop praising Shen Yun. He thinks the costume, backdrop, dancing, and techniques are the best in the world. The dance dramas "The Udumbara's Bloom," "Legend of the Brush," "Monk Ji Gong Abducts the Bride," etc. convinced him that Chinese history and culture are part of the very fabric of Shen Yun. "We need to promote our spirit of compassion, guide people to be good, and make it possible for the world to be more harmonious and peaceful." He felt that the show pushed him into an unselfish realm that was very serene.
Mr. Chen also mentioned the moral corruption of the present day. To him, the wonderful program contains elements that can help society. Currently the world economy is very bad, and morality very low--he hopes Shen Yun can spread to every corner of the world, bringing the best of Chinese culture to all people.
Tainan County Kuomintang Representative Zhou Xianzhen: Like Divine Paradises on Earth
Mr. Zhou said excitedly, "The entire show truly presented 'divine paradises on earth.' The opening piece, 'The Five Millennia Begin,' stunned the audience. Incredible! It is like a divine realm displayed in front of people on earth."
He thinks the programs were woven together nicely, with all the performers in harmony. "The Monkey King Triumphs" helped him learn that evil can never surpass the righteous, and people should cultivate their behavior like the Tang Monk.
Visual Arts Department Chair: We Seldom See Such a High Level Show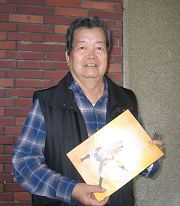 Mr. Cai Mosong, Visual Arts Department Chair of Chang Jung Christian University
Mr. Cai had high praise for Shen Yun Divine Performing Arts: "Such a program is hard to come by, combining Chinese traditions and the spirit of Western arts. It is seldom we meet with such a high level show in Taiwan. Chinese people should spread Chinese culture, because foreigners have a hard time understanding Chinese things. But Shen Yun is so welcomed by foreigners. Shen Yun is very successful in promoting Chinese classical dance."
Great Tang National Dance Company CEO Ma Huimin: Shen Yun Sets a Good Example for Taiwan Dance Circles
Ms. Ma Huimin has seen SYDPA three years in a row. She said, "Shen Yun is spreading benevolence and beauty through artistic performances. It has touched so many hearts. This year's show gave me more enlightenments on life and reminded us repeatedly what exactly we are pursuing. This is very important. I am also a dance worker. I have to think about how to touch the audiences' hearts, how to spread our principles, and with which forms. I have learned a lot from these years of watching the show, including back drop design, how scenery connects to the stage dance, and music composition. Shen Yun has been a good example for Taiwan's dance circles."
Shopping Mall Manager: Dancers' Devotion Moved Us
Mr. Zhang Guoguang is the manager of Taiwan's biggest shopping Mall - Dream Mall. He said after watching the show, "It is very moving. It forced me to do a lot of thinking. It is a very good dance art form. Especially these dancers--they are so professional, and they all performed very diligently. They are so honored to dance, devoted wholeheartedly to present the best of our Chinese cultural heritage."
Trustee Chair: The Tenor Is Very Very Moving
Ms. Qiu Huijuan is currently the Trustee Chairperson of IZU Company, a Japanese chain restaurant. The most touching programs to her were the drum pieces. "So shaking!" she sighed. "The Shen Yun performance is fantastic! There is flow and elegance in the drum dances. Chinese culture is so graceful. Each performer did a very accurate job on style, especially the monkey king in 'The Monkey King Triumphs.' When he was looking far away, his whole body and fingers moved wonderfully to express that. The tenor is very, very moving. He displayed the feeling of waiting so painstakingly. It was very well done. The lyrics of "Finding Myself" are also very good. I truly wish I could buy the CDs to listen at home."
Energy Shook the Audience, Like in a Divine Land
Ms. Chen has been married to a Taiwanese man for more than a dozen years. She said, "This is my first time to see such a marvelous show!" She was moved by the energy field of the opening piece, "The Five Millennia Begin," which made her feel like she was in a divine land. The program "Heaven Awaits Us Despite Persecution" especially touched her. Watching Falun Gong practitioners being persecuted brought her to tears. Her son, who came with her, could not understand why she was so touched. She said, "If you have never lived in mainland China, you cannot understand the depth of the minds of mainland Chinese. During the Tiananmen Massacre, many students lost their lives. Their parents dared not even cry in public." She was heartbroken when thinking about life in mainland China, while Shen Yun reminded her mostly of the wonderfulness of her 5,000-year-old cultural heritage.
Ms. Chen said her feeling about Shen Yun is that "It is so good, truly worthy of watching!"