Washington D.C.: Divine Performing Arts Is "Quite Divine!" (Photo)
February 16, 2009 | By a Clearwisdom reporter
(Clearwisdom.net) The Divine Performing Arts (DPA) Chinese New Year Spectacular has continued to captivate Washington at The John F. Kennedy Center Opera House during its six-day run. World-renowned pianist and teacher, Dr. Tom Mastroianni joined the enthusiastic audience in a long standing ovation. "This show is good! . . . . What a fantastic group!" A nearly 40-year resident of D.C., Dr. Mastroianni has himself performed at the Kennedy Center, lectured, given concert appearances, and performed chamber music throughout the world.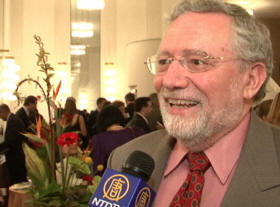 Dr. Tom Mastroianni is a well-known piano player and teacher
Dr. Mastroianni, who has been to China said, "I have traveled to China and have heard the music on traditional instruments and I have always been very impressed with the incredible level of performance that you can achieve on those instruments." He added that he was especially moved by the Erhu performance, titled Hope, "I was particularly impressed by the Erhu player. Her tone, her inflection, and her style! It had the character of authenticity . . . the real stuff!"
Dr. Mastroianni went on to add, "I have many students who have been very interested in the culture, or in their own cultures. And it is not only Chinese students, but Korean students and others as well. I think that this is a good thing because it is a stimulus and to see how it works in today's world."
Having seen many high caliber performances, Dr. Mastroianni shared that DPA particularly stood out for him, "It was fascinating, the pace was just constant! I mean it didn't let up for a second, it just kept you moving forward. And the colors, the costumes, and the dancing - - it was beautiful!"
Ms. Berk was among those attending the performance. Ms. Berk is a business owner as well as a licensed CPA. She is also a recruiter for CPAs, IT, and finance professionals. She said that this was the first time she'd seen anything like DPA, adding that the title, 'Divine Performing Arts' was most appropriate.

"It's quite divine! I have traveled quite a bit over the years and I have seen a lot of dance performances in other countries and other cultures and what I have seen this evening, the name of the dance group fits the performance! It flows, it is quite divine, very elegant!" Ms. Berk exclaimed.

"Not knowing much about Chinese culture, it was interesting to hear and to see that they are looking to pass on the history of some of the ancient beliefs and cultures that seem to be lost in today's world," she said.

"The costumes were quite bright and spectacular! They flowed, they moved with the performers. I was a dancer myself in high school, so I look not only at the overall performance but I also focus on the dance and I have never seen such fluid dancing," she said. "I have seen ballet companies, and I have seen the Bolshoi, but this was quite interesting, the way they are trained to dance and their body movements just seem to flow - it just flows!"

Ms. Berk added that she was impressed by the way the stories were narrated. "The staging was very well-done for what it is trying to depict because I believe it was telling stories and to pass on history to the audience, whether they were Asians, Chinese or not, and it definitely conveyed a feel for continuity and fluidity in their own choice of words through the songs, or when the announcers gave us as a story lines throughout the show."
"It was probably the best thing I've ever seen! It was very good," said student Lily Martin. Elaborating further, she added, "Just how they moved. They put so much emotion into it! And you could just see in their dancing how much they loved it. It was beautiful!"
She went on to say that her favorite performance was Udumbara's Bloom. The legendary udumbara flowers are said to blossom only once every three thousand years, whose blossoming heralds the coming of a great sage or enlightened being.
Source: http://theepochtimes.com/n2/content/view/11966/
http://theepochtimes.com/n2/content/view/11961/
http://theepochtimes.com/n2/content/view/11932/