Falun Gong at Taipei Municipal Jianguo High School's 111th Anniversary (Photos)
December 27, 2009 | By a Taiwanese Falun Gong practitioner
(Clearwisdom.net) Taipei Municipal Jianguo High School celebrated its 111th anniversary on December 5, 2009. The Falun Dafa Organization in the school, which was established five years ago, participated in the anniversary exhibition.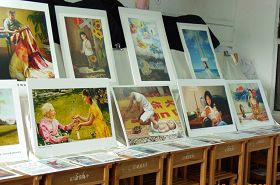 The Truthfulness-Compassion-Forbearance Art Exhibition held during the anniversary of Jianguo High School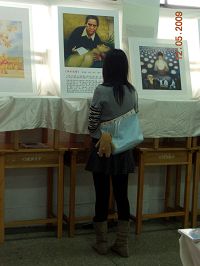 A student studies the art
Three large, golden characters for "Truthfulness-Compassion-Forbearance" attracted people's attention. The exhibition was held in a classroom, where visitors found paintings, brochures, bookmarks, paper lotuses, and CDs. It was very peaceful in the room.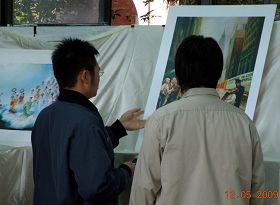 A practitioner student tells a visiting parent about the artwork.
An alumnus visited the exhibition and asked why the Chinese Communist Party (CCP) was persecuting such a great cultivation practice. The chair of the Falun Dafa Organization told him how the CCP persecuted the Chinese in the past and how it launched the persecution of Falun Gong because of jealousy. The alumnus suddenly understood. On hearing about harvesting organs from living Falun Gong practitioners, he looked very serious and repeated, "I believe it!" He thanked the chair of the organization and shook his hand before he left.
Teachers and students found deep meaning in the beautiful paintings. Some of them didn't know about Falun Gong, while others had heard about it. The exhibition gave them an opportunity to find out what Falun Gong was and about the persecution of Falun Gong by the CCP. They were shocked to hear about the CCP's crime of organ harvesting and condemned it.