Human Rights Activist on Spanish Lawsuit against Jiang Zemin: This Is very Important Progress (Photo)
(Clearwisdom.net) Mr. Reed Brody is the spokesman for the renowned international human rights organization Human Rights Watch. He represented Human Rights Watch in assisting the lawsuit against the former Chilean dictator Pinochet. When he learned recently that the Spanish National Court had accepted the charges of genocide and torture in the lawsuit against the five prime culprits involved in persecuting Falun Gong (former head of the Chinese Communist Party Jiang Zemin, as well as Luo Gan, Bo Xilai, Jia Qinglin and Wu Guanzheng), he said: "This is very important progress."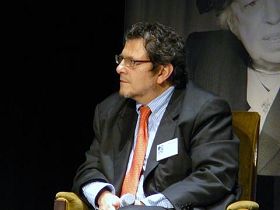 Human Rights Watch spokesman Reed Brody attending commemorative activity on International Human Rights Day
He pointed out: "This Spanish prosecution is based on Universal Jurisdiction. It is international law adapted to a situation where justice could not be served in the native country. Obviously for Chinese people, China should be the place to seek justice. But when this is impossible to achieve, then this law could be used in any courts. When the crime is serious enough, action can be taken. Spain will have pressure from the Chinese Communist regime. But Spanish judges are independent. They will treat the accepted case very rigorously. This is very important progress."
Mr. Reed Brody has been involved in promoting human rights and judicial justice for a long time. He has participated in many international judicial motions. He was the lead attorney for the victims of former Chad dictator Hissene Habre when he faced justice in Senegal. About Falun Gong practitioners' using international law to bring the prime culprits of the Chinese Communist regime to justice and to stop the abuse of human rights, he said: "The victims have the right to seek justice through judicial means. Unfortunately there are too many injustices around the world and too few places to correct them. Many people, including Falun Gong, Tibetan victims and others, are excluded from the court in their own nation. Therefore they seek judicial justice abroad. I think the Spanish case delivered a very important message. Not only does it provide some comfort for the victims, it also provides a court for them. This is impossible to find in the victims' own country. They could speak out about the sufferings they experienced and demand justice."