Ms. Liu Ronghua Sentenced to Two Years of Forced Labor (Photo)
(Clearwisdom.net) (Correspondent from Liaoning Province) Ms. Liu Ronghua is a 45-year-old Falun Gong practitioner and a lecturer at Dalian Fisheries School. She had an article published in the Chinese Encyclopedia. In April 2001, police arrested Ms. Liu because she practices Falun Gong and sent her to a forced labor camp in July of that year for a one-year term. Li Yuanpeng, the secretary of the Chinese Communist Party (CCP) at the school, dismissed Ms. Liu from her job and Ms. Liu's husband divorced her under pressure from the authorities.
On the afternoon of September 23, 2009, police again illegally arrested Ms. Liu and detained her at Yaojia Detention Center. Ms. Liu's family was not allowed to visit her. Ms. Liu's nearly 80-year-old mother traveled hundreds of miles to Qingniwaqiao Police Station to ask for Ms. Liu's release, but the officers just ignored her.
On October 21, 2009, the Committee for "Re-education" Through Forced Labor of Dalian City collaborated with the Qingniwaqiao Police Station of Dalian Public Security Bureau at Zhongshan District Branch to send Ms. Liu Ronghua to a forced labor camp for a two-year term.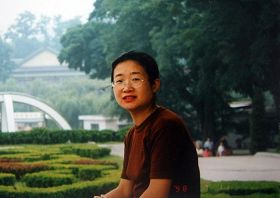 Ms. Liu Ronghua
The "Notice of Re-education Through Forced Labor" stated that the items that police confiscated while ransacking Ms. Liu's home were used as evidence to reach the decision. The items included a computer, a printer, truth clarification materials and the book Nine Commentaries on the Communist Party. The notice also claimed that Ms. Liu refused to answer questions while being interrogated and persisted in practicing Falun Gong exercises while under detention. Ms. Liu disagreed with the decision and has filed an appeal.
Since Ms. Liu was arrested last September, the police have also questioned her ex-husband in order to collect more information to further persecute her.
Ms. Liu's elderly father is not aware of her arrest. The family is afraid that he would not be able to bear it and so they did not tell him about his daughter's situation.
Responsible personnel and units:

Qingniwaqiao Police Station at Zhongshan District of Dalian City
Zhang Baojun (37 to 38 years old), head: 86-411-82635877 ext. 007

Domestic Security Division of Dalian City
Chen Xin, deputy head of the division
Wu Guansheng, political committee

Yaojia Detention Center of Dalian City: 86-411-86886166, 86-411-86887811
Wang Hongtao, Zhou Guichun, head of the detention center
Chen Weidong, deputy head