Recalling Master Li's Visit to Guan County, Shandong Province (Photos)
November 18, 2009 | Written by a Falun Gong practitioner from Guan County, Shandong Province
(Clearwisdom.net) On November 12, 1992, upon the invitation of the local government of Guan County, Shandong Province, Falun Gong founder Mr. Li Hongzhi visited Guan county with three of his students and taught Falun Gong. During the visit Teacher had dinner at the canteen of the guest house of the county government. The pictures at the end of the article are of the dinner tickets that he bought.
Before the invitation, in late spring and early summer of 1992, many residents of Guan County who were working in other cities returned to Guan County to attend a meeting organized by the local government. Among the attendees was Mr. Han Yu'an, an officer of the Chinese Qigong Association based in Beijing. At the meeting many elderly officials from the local government told Mr. Han that they wanted to learn a qigong practice from senior qigong masters. In response to their request, Mr. Han introduced them to Falun Gong and proposed that they learn it. At the time, more than ten kinds of qigongs were being practiced in Guan County, but according to those practicing them, none were effective. After they heard Mr. Han talk about Falun Gong, the officials decided to invite Falun Gong's founder to Guan County to teach them. The invitation was proposed by Mr. Zhang Huaixuan, the former chief editor of the county historical record, Mr. An Wenbin, and Mr. Liu Xiqi, a school teacher. Their proposal was accepted by Mr. Shi Chaoyong, the then-deputy secretary of the county's Communist Party Committee, and Ms. Qi Yufen, the deputy chief. When the invitation was made, Teacher had just finished his second Falun Gong seminar in Beijing and was very busy, yet he put everything aside and accepted their invitation.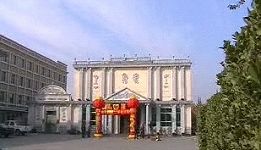 Canteen of Guanzhou Hotel, where Teacher had dinner during his visit to Guan County
Meeting room of the Wine Factory of Guan County (after reconstruction). The gate faces to the west. Teacher taught Falun Gong here twice.
At about 5 a.m. on November 12, Teacher and three of his students set out for Guan County. They first traveled by train and stopped at Handan City, Hebei Province. At Handan City's railway station they were picked up by Mr. Rui, an official from Guan County, and brought to Jinan City, Shandong Province by car after covering a long distance on the Jinan-Handan Road. They then drove by Tangsi Village in Guan County and arrived in the county-seat of Guan. At about 7 a.m. the team stopped north of Qingyuan Bridge, located halfway along Hongqi Street. There was an outdoor food booth on the south corner of the street and it was there that Teacher had his first meal in Guan--fried bread sticks and soy milk. After the breakfast Teacher went to a health center for elderly government officials, where he met with some officials and discussed details about the Falun Gong lecture series in Guan County. While talking with them, Teacher purified their bodies.
Many people from the local government attended the meeting. They were from the local police department, civil political bureau, administration bureau of elderly cadres, sports committee, Qigong association and personnel in charge of other qigong practices. Mr. Rui invited Teacher and his students for lunch and asked them to stay at his home during the lecture series. Teacher declined his invitation, not wanting to inconvenience him, because many people would come by to ask him to heal their diseases. Then, following some local routines, Teacher stayed at the Guanzhou Hotel, which was the then-guest house of the Communist Party Committee of Guan County. He stayed in the east end of the hotel for only one night because he thought the price was too expensive. He then moved to a normal room on the second floor in the west end of the hotel and stayed there until the lectures finished. He asked his students to buy dinner tickets and had his three meals on time in the canteen every day.
Dinner tickets that Teacher left to local practitioners before he left Guan County
Teacher was very frugal. His sweater was already very old and covered with many patches. He ate steamed buns, some vegetables, and a bowl of boiled rice for breakfast. The canteen supplied fried vegetables for lunch and supper. Customers could only buy a certain amount and were not allowed to buy more if they wanted to. Ms. Liu, an elderly Falun Gong practitioner who came with Teacher, was worried that the food provided was not enough for him. One morning she went out and bought a fried egg for him without telling him. She thought Teacher would be happy about this, but instead Teacher talked with her about the matter in a serious manner and taught her Fa. Ms. Liu was in tears while she listened to the teachings. No other practitioner knows what Teacher taught her.
After Teacher left, practitioners from Guan County started to study the Fa in groups and began to ascend in their cultivation levels.
Written on November 2, 2009