After Six Months of Detention and Torture, Family Fails to Recognize Mr. Yin Xunzhen (Photo)
November 16, 2009 | By a Minghui reporter from Heilongjiang Province
(Clearwisdom.net) Mr. Yin Xunzhen, who is 60 years old, used to work at the Fangzheng Town Forestry Bureau in Heilongjiang Province. In January 2009, he and his wife went to Zhuhai City to visit their daughter. On April 10, the couple, their daughter and son-in-law, who is not a Falun Gong practitioner, were illegally arrested by the Zhuhai City Doumen District Domestic Security Division. It has been six months and Mr. Yin is still detained in the Zhuhai City Doumen District No. 3 Detention Center. Due to the length of his detention and torture, his health has deteriorated and his life is in danger.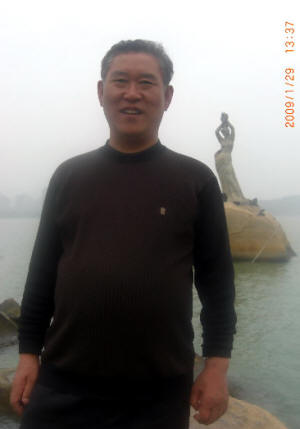 Mr. Yin Xunzhen before Detention (January 2009)
Mr. Yin Xuzhen has been practicing Falun Gong since 1996. Before he started practicing, he had not been able to work for more than 10 years due to an injury he sustained at work. Overwhelmed with several diseases and the injury, he could not do anything but stay at home, even though he was only in his thirties.
After practicing Falun Gong, Mr. Yin changed a great deal. He recovered from all the diseases he had and his face glowed with health. But most of all, there was a big improvement in his mental state. Whenever he saw people, he would tell them that it was Falun Dafa that saved his life. His neighbors, family members and colleagues witnessed the miracle of Falun Gong.
Since April 20, 2009, Mr. Yin has endured all kinds of inhumane torture. In order to force him to admit that he posted self-adhesive labels, the police forced him to walk with bare feet for a long distance. Mr. Yin's health deteriorated greatly during his detention. His hair turned gray, and his face became pinched. He shook whenever he moved and his speech became very faint and weak. Mr. Yin became disoriented and also became very thin. His family did not recognize him when they visited him in the detention center.
Mr. Yin, his wife and their daughter have now been detained for more than six months. On October 20, 2009, Mr. Yin was put on trial at the Zhuhai City Doumen District Court and convicted on trumped up charges.
Mr. Yin is now in grave physical condition and suffering tremendously.