Mr. Yin Sirong in Critical Condition--Xishanping Forced Labor Camp Authorities Skirt Responsibility (Photo)
Name: Yin Sirong (尹思荣)
Gender: Male
Age: Unknown
Address: Wanzhou District, Chongqing
Occupation: Unknown
Date of Most Recent Arrest: July 31, 2009
Most recent place of detention: Xishanping Forced Labor Camp (西山坪劳教所)
City: Chongqing
Persecution Suffered: Beatings, imprisonment, torture, forced-feedings, detention
Key Persecutors: Chongqing Labor Reeducation Committee, Xishanping Forced Labor Camp
Defense Attorney: Names unknown
(Clearwisdom.net) (By a correspondent from Sichuan) Falun Dafa practitioner Yin Sirong was arrested on July 31, 2009 in the Wanzhou District of Chongqing City. The Chinese Communist Party (CCP) authorities secretively sent him to Xishanping Forced Labor Camp. In order to protest the persecution, fifty-year-old Yin Sirong started a hunger strike. It has been three months, he is now in critical condition. His two attorneys are not able to contact him due to the difficulties raised by the authorities.


Mr. Yin Sirong
Mr. Yin Sirong Requested Dismissal of Illegal Sentence to a Forced Labor Camp
On July 31, 2009, Mr. Yin Sirong was arrested at a fellow Falun Gong practitioner's home in the Wanzhou District of Chongqing City. Authorities from the Public Security Bureau in Wanzhou District attempted to send him to a labor camp. They have stated that his ID was unconfirmed, caused difficulties for his family, and provided no documents to his family, so that his attorney could not get involved.
On September 3, 2009, Mr. Sirong's family and lawyer joined efforts. Authorities from the Wanzhou Public Security Bureau finally gave a "detention notification" to the family, so the attorney was able to contact the family. In the meantime, his family received a notice of "labor through re-education," stating that Yin Sirong was to be sentenced to one year and nine months in a labor camp. He was hurriedly sent to Xishanping Forced Labor Camp. The authorities interfered with the attorney's efforts so he could not contact Yin Sirong. After numerous efforts, his family was finally able to see him for the first time in mid-September. Since his wife also practices Falun Gong, she was not allowed to see him.
With the help of his attorney, Yin Sirong appealed for his rights. In the appeal letter, they pointed out serious violations of the law by the Labor Re-education Committee, who sent Mr. Yin Sirong his sentencing verdict. The letter pointed out that the so-called evidence did not prove he committed any crime of disturbing society, and that the verdict should be dismissed immediately. The authorities did not respond to the appeal letter.
Yin Sirong in Critical Condition--Labor Camp Attempts to Evade Their Responsibility
On October 15, 2009, Yin Sirong's family received a phone call from the labor camp, asking the family to come to the camp, and stating that Yin Sirong was still on a hunger strike. His wife and daughter went to Xishanping Forced Labor Camp as soon as they could, and waited over two hours at the camp. The guard told them that Yin Sirong was having nose bleeds, stomach bleeding, severe atrophy of his stomach, arteriosclerosis, and he threatened that if Mr. Yin continued his hunger strike, he and his family would have to take responsibility.
The labor camp then made an exception to the normal rules and let the family visit Mr. Yin Sirong. The purpose was to persuade him to stop the hunger strike.
After the visit, the labor camp authorities attempted to force the family to sign a paper stating that they would take the responsibility, and that they would guarantee he would stop the hunger strike. The paper also described his current health condition.
Yin Sirong said that he cherishes his life, but he would not cooperate with the authority's criminal acts and their persecution against kind people. He has been deprived his basic human rights, and he was left no alternative but to go on a hunger strike. He hopes that his actions will call attention to the persecution and awaken the kind nature of people.
Since he started practicing Falun Gong in 1996, Mr. Yin has followed the principles of Truthfulness-Compassion-Forbearance, and has benefited enormously. Since the persecution began on July 1999, he has been persecuted numerous times. He was forced to leave his home and became homeless in March 2000. He was arrested on a bus in December 2000, and sentenced to three years in a labor camp. He has suffered all kinds of torture and abuse while in Xinhua Forced Labor Camp. After being released from a labor camp for only few months, he was almost arrested again in April 2004. More than ten officers from the Chengdu State Security Bureau and Fuqinglu Police Station stormed his workplace. He then had to leave home again. He was arrested again on July 31 2009.
CCP Officials Brutally Force-feed Falun Gong Practitioners
CCP officials used all kinds of methods to torture and abuse those Falun Gong practitioners who held hunger strikes. Most of the practitioners were subjected to brutal force-feeding. The authorities purposefully abused the protesters and attempted to force them to give in. Some even used intravenously administered drugs to destroy their central nervous systems.
As one of the most notorious places for persecuting Falun Gong practitioners, Xishanping Forced Labor Camp is extremely brutal in persecuting Falun Gong practitioners. During the new year, Falun Dafa practitioner Mr. Jiang Xiqing from Jiangjin District Chongqing City, who was a retired employee from the tax bureau, died a bizarre death which caused shock and drew attention locally and abroad. On September 22 2009, former engineer and graduate student Tang Yi died of force-feeding and beating.
Five years ago, the Minghui website statistics indicated that there were dozens to hundreds of Falun Gong practitioners who had died from brutal force-feedings. Many more suffered complications from the forced-feedings. Numerous practitioners have been force-fed with high concentrations of salt, hard liquor, chili sauce, detergent and even feces and urine.

Xishanping Forced Labor Camp No. 7 Battalion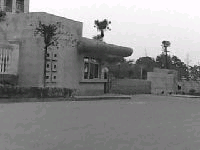 Hospital No. 3 Battalion
Facilities and perpetrators responsible:
Chongqing City Labor Reeducation Committee
Xishanping Forced Labor Camp:
No. 7 Battalion second squadron: 023-89090025
Lei Kejin, director of the second squadron: 023-89096649
Hu Yuejin, Wang Zhong, deputy directors
No. 7 Battalion: 023-89090037
Du Jun, director of the battalion: 023-89096958
Forced Labor Camp: 023-89090015
Luo Ping, Li Shize, Director Jiang, head of the labor camp
Wanzhou District Public Security Bureau: 023-58233933
Officers who handled the case: Deng Bo (badge #116852), Wang Hongjie: 13709434949
Wu Xiaojing (badge #116857), Wanzhou District Public Security Bureau
Tang Weiming, Chongqing City Wanzhou District Domestic Security Division
Chongqing City Public Security Bureau director: 023-966555
Chongqing Public Security Police Superintend hotline: 023-63758111
Chongqing Public Security Disciplinary Committee superintendent hotline: 023-63961000