Resident of Brooklyn, New York: "I want to learn Falun Gong" (Photos)
(Clearwisdom.net) On October 4, 2009, Falun Gong practitioners took part in the annual largest street fair in Brooklyn, New York. Many people accepted information about Falun Gong; some of them wanted to learn more facts and some wanted to learn the exercises.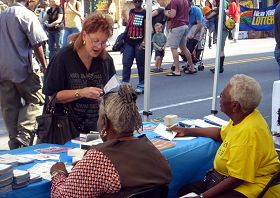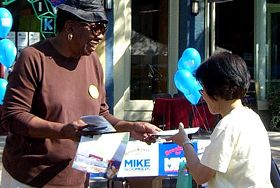 Learning the facts
The man immediately reads the flyer as soon as he takes it
The street fair has a history of more than 30 years. Tents were set up one after another along the 1.5 mile-long Atlantic Ave, and a steady stream of people created a lively and bustling atmosphere. Not only did the people of Brooklyn come to the street fair, but people in neighboring boroughs also came to have fun.
Falun Gong practitioners in Brooklyn have participated in the fair since 2000. On this day, the Falun Gong booth was beautifully decorated. On the top of the tent there was a golden banner that read, "Falun Dafa is good" in blue words, which was very eye-catching. Visitors could easily locate the Falun Gong booth. Some practitioners demonstrated the exercises, and some talked to people passing by, introducing Falun Gong to them.
Practitioner Ms. Hunter who has taken part in the fair every day, said that many people learn about Falun Gong from the fair every year. This year, she felt that even more people started paying attention to Falun Gong. Many of them came on their own initiative to learn the facts, and ask for exercise teaching information.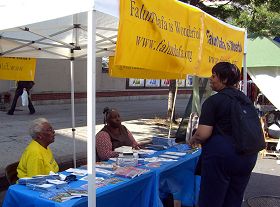 Deloris comes to learn the facts about Falun Gong
Deloris walked up to the table and told the practitioners that she had seen the practice in New York City, especially in front of the Chinese Consulate. She said it is really terrible that so many innocent people have been killed (by the Chinese Communist Party). The practitioner told her about the free exercise teaching site in Brooklyn. Deloris took a flyer and happily left.
Lilian saw some practitioners doing the sitting meditation, and took a flyer from a practitioner. She said that she needed to learn this practice, so that she would be healthier.
Jacqueline came to the booth with her friends. They thought the CCP's persecution of Falun Gong is so bad. They wanted to know where to learn the practice. When hearing that there is a free exercise teaching session, they took the flyers and happily left.
Practitioner Jozelle's niece also came to the fair. She read a Falun Gong flyer, and told Jozelle that she had read the flyer and wanted to learn Falun Gong.
Firefighter Genevieve from the Bronx had a brief conversation with a practitioner, and then came up to the table to ask for contact information. She wanted to bring Falun Gong flyers to distribute to all fire control offices, and recommended that they take part in the free exercise classes.
A young man and an elderly man came together to the booth. The young man asked, "Is this the practice that has been subjected to persecution by the CCP?" When a practitioner told him yes, he walked up to the table, took a flyer, carefully folded it and placed it inside his pocket. He said that he wanted to read it carefully, and learn more about Falun Gong.