Chiayi, Taiwan: Elected Officials Address the Blocking of NTDTV Broadcasts (Photos)
October 25, 2009 | By Wang Hsing-han
(Clearwisdom.net) The broadcast signal of New Tang Dynasty Television Asia Pacific (NTDTV) was disrupted by an unknown source from September 17 to October 1, 2009. An investigation has been called for by speaker Yu Cheng-da of Chiyi County Council, and legislators Chang Hua-kuan and Chiang Yi-hsing. They are calling for the National Communication Committee (NCC) and Transportation Department to investigate the disruption.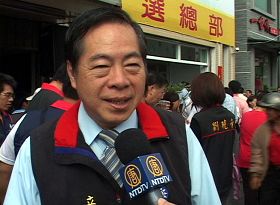 Legislator Chiang Yi-hsing called for a government investigation of the NTDTV broadcast signal disruption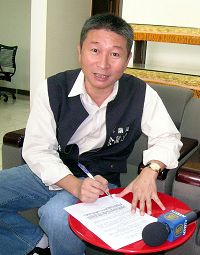 Speaker Yu Cheng-da of Chiyi County Council signs petition supporting an investigation into the NTDTV broadcast signal disruption
Speaker Yu Cheng-da of Chiyi County Council praised NTDTV for its contribution to the arts and culture, and its efforts to let the world know about Taiwan's democracy and freedom. On October 22, he signed a petition supporting the investigation of the disruption of the NTDTV's broadcast signal.
Legislator Chang Hua-kuan said, "NTDTV's broadcast signal was disrupted before October 1, the CCP's sensitive day. Why was only the NTDTV satellite signal blocked? It is reasonable to suspect that CCP pressure is behind the incident. The disruption of NTDTV's broadcast signal has seriously affected telecommunications and national security in Taiwan. The NCC and Transportation Department should review and not be afraid of the CCP."
The disruption of NTDTV's signal lasted for fifteen days. Legislators including Lai Hsing-de and others requested that the NCC organize an investigation early this month. Chunghwa Telecom (CHT), the company that rents the satellite, has not provided concrete reasons for the incident.
NTDTV AP's signal is broadcast through the CHT's International Program Transmission Service, which is partially owned by the Taiwanese government. Intermittent signal disruption started at 1:30 p.m. on September 17. Daily interference has occurred during primary news broadcasts and persisted through the entire day of October 1, the day the Chinese Communist regime celebrated its 60th year in power. The low-frequency transmission of the satellite covers Taiwan and nearly four-fifths of China.
NTDTV has always been known for its independent reporting of the facts in China. In recent years, the station has broadcast more comprehensive and in-depth coverage of topics the CCP considers "sensitive," such as democracy, freedom, and human rights, including the protection of human rights in various parts of China, as well as corruption and chaos, the persecution of Taiwan businessmen and minorities, underground churches, Falun Gong, etc. Thus it has been the target of CCP pressure internationally.
NTDTV Asia-Pacific Station General Manager Ms. Zhang Ruilan wants people to pay close attention to freedom of speech so that telecommunications in Taiwan will not be interrupted and violated. In the future, they will provide reports to international organizations, including Reporters without Borders, regarding how the government, Congress, and China Telecom in Taiwan carried out their investigations and handled this situation. At the same time, she stressed that when necessary, NTDTV will use legal means to obtain justice and safeguard the right to broadcast legally.
Chunghwa Telecom has not yet released any investigation results. It is reasonable to suspect that this is due to improper pressure and interference.