Falun Dafa Practitioners at the Largest Health Fair in Upstate New York (Photo)
(Clearwisdom.net) On October 15, 2009, Falun Dafa practitioners from Rochester, New York participated in the largest health fair in upstate New York. This is the seventh year that local practitioners have participated in the fair to promote Falun Dafa and to share their personal experiences of benefiting from the cultivation practice.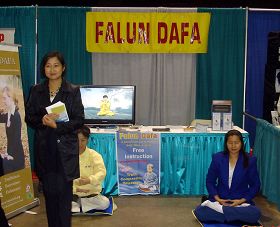 Falun Dafa practitioners participate in Health Fair of Upstate New York 2009
There was a large crowd of people at the fair. Practitioners set up the table with Falun Dafa books, truth clarification materials and a television set to play the exercise video. While some practitioners demonstrated the exercises, others passed out flyers to passersby and shared their personal stories of benefiting from Falun Gong. When people heard that all Falun Dafa classes are free of charge, many of them said that it was hard to believe because they had spent a sizable amount of money on various exercise classes. After they heard the introduction, many of them expressed their gratitude for the voluntary contributions made by Falun Dafa practitioners in improving the physical health of the community. Many people immediately expressed interest in learning the exercises. Some said they would try to learn them at home, and some asked about the time and location of the public group practice site.
Practitioners also took the opportunity to help people learn about the persecution of Falun Gong practitioners in China. When people learned that there were two practitioners at the booth who were physically abused while imprisoned in China, they felt it was hard to connect those two things. People asked, "You are so peaceful. Why did they imprison and abuse you?" Some stopped by the booth and quietly watched the practitioners' exercise demonstration from a distance. After a while, a few came to our practitioners and said that they knew about what is going on in China and that they are happy to see Falun Dafa at the health fair.