Falun Gong Waist Drum Team Performs at Kaohsiung Luchu County Event (Photos)
October 01, 2009 | By a practitioner from Kaohsiung Taiwan
(Clearwisdom.net) The Seventeenth Annual Sports Competition of Luchu County Kaohsiung was held on September 26-27. There were exciting performances, a torch relay, and an evening party, as well as the sports competitions. Mayor Wang, mayor of the county, invited the residents to participate in the events and invited Falun Gong's Waist Drum Team to perform at the evening party.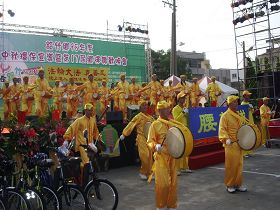 Falun Gong waist drum team performs at the evening party in Luchu County on September 26-27, 2009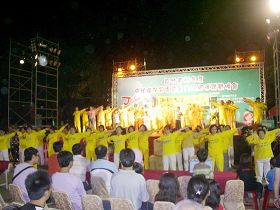 Falun Dafa exercise demonstration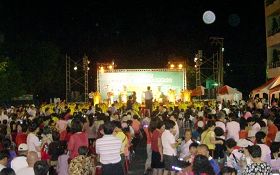 Many Luchu County residents watch the Falun Gong exercise demonstration at the evening party
The mayor had arranged for Falun Gong practitioners to demonstrate the exercises at the best time--when the largest number of people were at the event. Many onlookers followed the exercise movements during the stage demonstration, and many families came to the Falun Gong booth asking for introductory materials and lotus flower bookmarks.