Holland: Introducing Dafa at the Culture & Leisure Fair in The Hague (Photos)
(Clearwisdom.net) The 2009/2010 International Culture & Leisure Fair in Holland made its debut in the Atrium at The Hague, on September 20, 2009. The event was hosted by The Hague Council. This year, over 150 culture and leisure organizations, as well as health and sports clubs, were at the fair. Falun Gong practitioners were also invited to participate.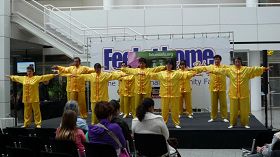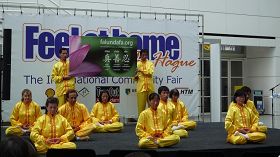 In order to provide information about the local cultural associations for the international community, The Hague Council has successfully hosted the International Culture & Leisure Fair in the City Hall, and it has become the most popular international event in The Hague for the past three years. Last year it attracted about 5,000 visitors. Fritz Huffnagel, the mayor of The Hague, spoke on opening day of the fair.
The representative of the Falun Gong group in the Hague said, "The fair has offered a good platform to introduce different cultures. It is a good opportunity. Many people are showing interest in Falun Gong."
This fair has also attracted many Chinese, who have experienced the inclusiveness of the different cultures.
One Chinese student said, "I feel very relaxed. When I see a Chinese person introducing Falun Dafa to the westerners I feel that this would simply be impossible in China. My eyes are opened here. It is different abroad and all cultures are inclusive, not like in China, which closes up thought and blocks information. Thus I've had a good experience here."
There were also multicultural activities, including demonstrations of music, art, and fitness exercises at the fair. The relaxing, deliberate and peaceful exercises of Falun Dafa impressed the visitors.
After watching the Falun Gong exercise demonstration, Ms. Zhang, a Chinese woman living in The Hague, talked about her feelings, "It is easy to learn Falun Gong. I would like to try it. I have tried Yoga before, as I felt I was getting old, busy with work, and under a lot of pressure, and I wanted to find a way to relax. I have heard about Dafa before and want to learn more about it. This time I've seen it. There would be no such chance in China.