New Jersey Audience Praises Divine Performing Arts' Show on Chinese New Year's Eve (Photos)
January 28, 2009 | By Minghui reporter Feng Daosheng
(Clearwisdom.net) On January 25, Chinese New Year's Eve, the Divine Performing Arts (DPA) gave two Chinese New Year Splendor performances at the State Theatre in New Jersey, both of which were warmly welcomed by the audience.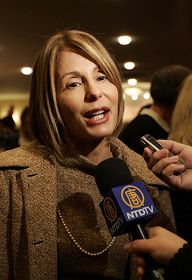 New Jersey State Senator Barbara Buono was deeply touched.
New Jersey State Senator Barbara Buono said the show was wonderful.

"My emotions are running the gamut. It's uplifting and then at times, with the persecution and the Falun Gong, its very saddening, but I am enjoying it immensely."

In a modern day portrayal of Chinese culture, a dance depicts the persecution of a father in China for practicing Falun Gong. The scenes that ultimately unfold in this piece present a message of hope and bespeak of a longstanding Chinese belief that good people are ultimately rewarded, even if not in this lifetime.

Tears welled up in Ms. Buono's eyes when she watched the Falun Gong scene. She said, "The part about Falun Gong persecution ... I [had] tears [in my eyes]. It was done beautifully, but, it was very sad as well. I liked that."
China's traditional culture was something that Ms. Buono appreciated greatly and she said she makes sure that her children are brought up knowing and understanding such values. "We have a lot to learn from such an ancient culture, it's five thousand years old. I often tell my children to "think highly of yourselves [and] treat yourselves like an ancient Ming vase.' They know a lot about Chinese culture. It's an ancient culture. We have a lot to learn."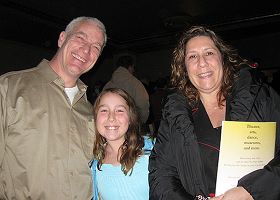 David Stahl, the Mayor of East Brunswick, comes to the show with his family.
Mr. Stahl, the mayor of East Brunswick, attended Divine Performing Arts final show in New Brunswick's State Theater on Sunday Jan. 25. He said the lyrics of three vocal soloists were deeply moving for him and that they carried an optimism that left him feeling refreshed.

"As a mayor, sometimes I think more of some things that involve our own community, and here in New Jersey we have difficult economic times, difficult times, with people losing their jobs, and as I look at those words, I know that [message] is more powerful because it's really meant on a bigger scale."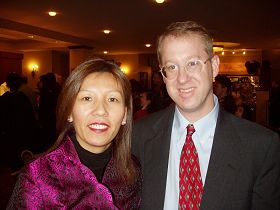 Cecilia Birge, Deputy Mayor of Montgomery Township, and her husband
Cecilia Birge, Deputy Mayor of Montgomery Township thought that watching the show was an ideal way to celebrate Chinese New Year's eve. "I thought it was wonderful because it was quintessentially Chinese but also accessible to Western ears and that's also a true reflection of the Chinese-American heritage," said Mrs. Birge referring specifically to the unique blend of Western and Chinese instruments. "That was the highlight for me because it's very easily understandable because of the rhythm of it but also because it's a reflection of the Tang dynasty. It really showed all of that - the excitement and enthusiasm of the performers."

"A wonderful combination of the past and the future," she said.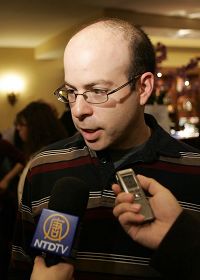 Graphic design artist, Mr. Dunst, who was in the audience, said he thoroughly enjoyed the show.
Graphic design artist, Mr. Dunst, who was in the audience, said he thoroughly enjoyed the show. "It's so different from American-type dancing. I liked the drumming, just everything, the choreography...it was just very new, definitely different, and I liked the way everything told a story. That to me was the most significant part." Being religious himself, Mr. Dunst said he had no problems relating to the spiritual elements in the sketches and songs. "You hear it in our Jewish songs, there's a lot of spirituality in those, so, you can definitely tell, especially the way they were performed, you could tell there was a lot of meaning involved."
State-of-the-art animated and static backdrops enrich a repertoire of ancient and modern themes played out in each performance; majestic palaces, sprawling Mongolian plains, rustic temples, cascading clouds, and more. "It was very interesting how they incorporated the backdrops into the dance, very neat and very modern," Mr. Dunst said.