Egyptian Conductor: "The Arrangement Is Genius" (Photo)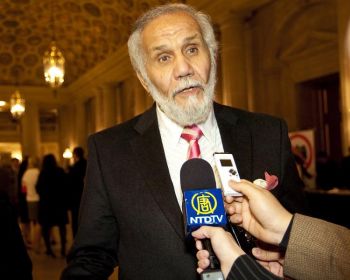 'I would like to see it more than twice or three times or four times.' (Mark Zou/The Epoch Times)
(Clearwisdom) Mr. Sary Dowidar, an international conductor and composer, was among those in the audience who were enthralled by the Divine Performing Arts (DPA) Chinese New Year Spectacular at San Francisco's Opera House on Saturday Jan. 10.

As an expert in music, Mr. Dowidar had a lot to say about the performance. "I would like to talk about the performance and I talk about the thing which I am concerned with, which is music. The composer is a great man and he arranged well the work and had good coordination between him and the choreographer." He said he felt that the choreographer and conductor of the show worked together in perfect harmony.

"The arrangement is genius. Some people refuse to combine the Chinese traditional instruments and the orchestra. I'm the opposite, I encourage that because ... it's not easy to play Chinese melodies with the western orchestra. The style and the method, its not easy."

"But to make it easy for the people to hear it from the western perspective...it's something unbelievable--this is what I am talking about."

The Divine Performing Arts Orchestra combines Western and Chinese musical instruments to create a unique and beautiful sound. Currently it is the world's only orchestra that embraces both Western and Chinese instruments together.

Mr. Dowidar explained that he is in America to conduct American and Arab musicians together to play traditional Arabian classical music, and to teach American musicians how to play and how to sing Arabic music.

Mr. and Mrs. Benarab accompanied Mr. Dowidar to the performance. Mr. Benarab said he invited Mr. Dowidar to the show because he felt it was "going to give him a lot of thoughts and many things that can help him in his performance of Arabic music, although it's Chinese."

Mr. Dowidar said this indeed did happen, "because I have many things now in my mind about [the] music and I told you before that the composer could make [the] music reach our heart and soul and we can hear it without the dancing--just the music..."

When asked which was his favorite performance Mr. Dowidar replied, "I like best the music of Mulan ["Mulan Joins the Battle"], the music to that dance is unbelievable--it's great, I liked that so much. I liked that style of music which is explaining what's going on ...the music was great. I liked this dance very much."

Mr. Dowidar was so moved by the performance, he felt seeing it once was not enough. He said, "I would like to see it more than twice or three times or four times, until I study and get it in my mind and start singing internally."

"At the last one... the music which was played was marvelous. I can't say what's best and what's better than that--the whole thing is very nice. Everything is very good--I wish to attend it more than three or four times until I get it."

"I am grateful to the people who make these things possible."

Mr. Dowidar has been composing, conducting and arranging for decades. He has studied classical Arabic music, both choral and orchestral, with the Academy of Music in Cairo. He is a well-known composer for some of the prominent Egyptian opera house singers.
Source http://en.epochtimes.com/n2/content/view/10152/