San Francisco: High Tech Executive Returns Each Year (Photos)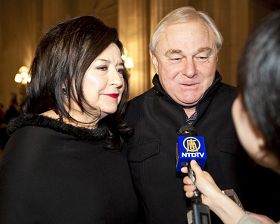 Mr. and Ms. Traub have returned to see the show each time they visit San Francisco.
(Clearwisdom.net) At the War Memorial Opera House on the evening of January 10, Divine Performing Arts created another remarkable theater event. Mr. Traub, president of a cutting edge high-tech company, and his wife, a former dancer, came to see the company for the third time. This show had all new dances and music. "We enjoyed it very much. We were here last year and two years ago. The performance was even better tonight. It was wonderful."

Ms. Traub said, "I thought that the costumes were very beautiful and very colorful. Of course, the performance of the dancers made it a great show."

She noted that the show conveyed traditional Chinese culture. She said, "That really was beneficial--we have to learn more. It was catching. There were many different things that I didn't know, such as what happened to the gentleman who was meditating and how cruel they were to him. I didn't like that. That was a very important issue. We understand the benefits of the arts and communicating a message."

She was speaking of the dance "Heaven Awaits Us Despite Persecution." In it, an innocent family suffers when the father is persecuted for practicing Falun Dafa, a traditional spiritual discipline. Many audience members have said they were moved by the story.

Having been a dancer, Ms. Traub responded to what she saw, saying, "The performance was amazing and the way they demonstrated that was very important. It was very interesting. I was very impressed. Dancing is very universal and I was impressed to see that reflected in the Chinese dances."

Folk dances from many regions and peoples within China give variety to the program.
Mr. Traub said the show was "Beautiful--just really spectacular. My wife is a dancer, so she really appreciates great dance and there was some beautiful dancing." He thought some of the folk dancing was very interesting.

Ms. Swanson, a real estate professional, said, "The more I saw, the more I got into it. Like the last Tibetan dance, I said, 'I want more, I want more!'"

She was talking about the Tibetan "Dance of the Snow-Capped Mountain," where dancers spin, stomp, and step in a celebration of living on the rooftop of the world, undaunted by snow and the elements.

Ms. Swanson said, "I liked that they are extremely athletic. They must train forever for these performances. I have a feeling they train year round probably."

Mr. Lupino, who also works in real estate, accompanied Ms. Swanson to the show and agreed that the performance was top-notch.

"Excellent, very nicely done. It's fantastically colorful. I was pleasantly surprised," he said.

"Incredible visuals ... the computer-generated background is beautiful," said Ms. Swanson.

Mr. Lupino noticed the costumes and the orchestra's fusion of Western and Eastern instruments.

"The costumes are beautiful. The music is great. I have been watching the instrumentalists because it is different from a typical symphony orchestra."