Toronto, Canada: Legislator Finds Delight and Insight in Cultural Show (Photos)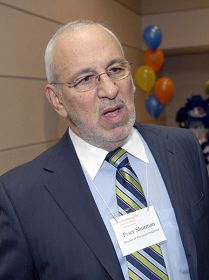 Toronto legislator Peter Shurman
(Clearwisdom.net) Toronto-area legislator Peter Shurman came away from watching his first Divine Performing Arts (DPA) show both entertained and educated by the performance.
The recently elected member of provincial parliament for the community of Thornhill attended the show Friday evening with his wife Carole.
Mr. Shurman commented that China is often thought of as having only one culture but the DPA show presented how truly diverse China is with performances rooted in different ethnic traditions and based in different regions and times.
Mr. Shurman was intrigued by the divine theme in the show, and in particular by the conflict between spirituality and communism presented in two of the performances.
"We don't tend to think of the two as being contradictory," he said. "But fundamentally they are, as communism is godless."
In "Heaven Awaits Us Despite Persecution," a father is persecuted for his belief in Falun Dafa, a traditional spiritual discipline whose practitioners are persecuted in China today. And later, in "Dignity and Compassion," a practitioner's mercy awakens a policeman's kindness, prompting the persecutor to change his ways.
Mr. Shurman found the struggle "fascinating," and noted that the show had an "always hopeful" theme. He found this message uplifting given that day-to-day life often suggests that goodness does not always prevail.
According to Mr. Shurman, the show's inner content, cultural representations and aesthetic beauty combine to make a performance not to be missed.
"I'd recommend it to anyone who wants to learn about China and at the same time be entertained for three extraordinary hours," he said.
Prior to his election to office in 2007, Mr. Shurman had successful careers in both business and in broadcasting and was a popular broadcaster on CFRB, a leading radio station in Toronto. He is a prominent supporter of charities, including Sick Kids and another for the vision impaired.
Divine Performing Arts is made up of three companies. Its New York company is staging the show in Toronto with five performances remaining at John Bassett Theatre. The company will then move on to Montreal and then to New York City for a run at the famed Radio City Music Hall.