Actress: DPA's Profound Performance Purifies People's Hearts (Photo)
(Clearwisdom.net) At 8 p.m. on December 30, 2008, the Divine Performing Arts' (DPA) International Company held its opening show in Los Angeles at the Pasadena Civic Auditorium. This was the first of eight shows in Los Angeles. The opening show attracted many people from various fields including the arts, business and education, and won great praise.
Known as the "City of Angels," Los Angeles is the largest city in California, and a city where arts and entertainment are a main focus. As it is located close to Hollywood, the DPA show attracted many Hollywood celebrities.
TV and Movie Actress: The Programs Give People Hope
Tracy is a TV and movie actress. Her husband bought tickets to the DPA show as a Christmas present. After watching the show on December 31, Tracy said that she was mesmerized by it and had not realized before that it was such a precious present.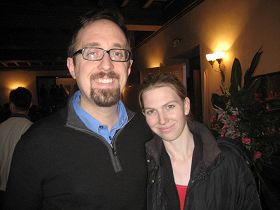 Tracy and her husband Pat Parketon, a professor at UCLA
Tracy said that the performance was terrific and charming.
She said that she has never seen anything so beautiful during all of her career. She continued, "This performance is marvelous. The costumes, dancing movements and music are impressive."
As a TV and movie actress, Tracy was very impressed with the digital background and the artistic content of the performances. She said, "I have never seen such background projection in other shows. It is interesting. We enjoyed the show."
She shared, "I understand the spirit of what it takes to be an artist. The heaven-on-earth programs give people hope."
Mr. Pat Parketon is a professor at UCLA. He said that DPA's performance transports the audience into a heavenly paradise.
He continued, "It was as if the artists came out of the backdrop and went back in. I like it. The colors were brilliant."
Actress Moved to Tears by DPA's Performance
After watching the show on December 31, actress Sophia Ly Phi said that the performance touched her heart and that she was moved to tears by its profound contents, which purified people's hearts and elevated their spirits. She said the show brought a peaceful message to the world.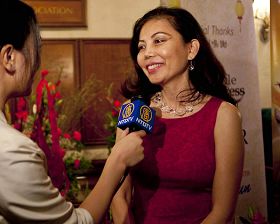 Actress Sophia Ly Phi
Ms. Phi said, "The choreography beautifully combined ancient legends and charming dances and conveyed profound meaning. The spirit and profound meaning woke us up and opened up a spiritual path for us. It is time to bring peace to the world with such a performance."
Ms. Phi couldn't hold back her tears when she watched "Persecuted on a Sacred Path," a scene about Falun Gong practitioners suffering from China's suppression.
DPA Songs Helped Me Find What I Have Been Looking for
Ms. Phi shared that she had also found something she had been looking for in one of the songs.
"Some music was great. How did (the DPA) combine so many things together and make it so meaningful? The song 'Finding Myself' carried me away. It sounded like my path and what I have been looking for," Ms. Phi said.
Before parting she said, "This performance was very successful. For an artist, it gave me a special feeling. I hope everyone can come to the show because it helps us and the world find love and peace. Thank you. I will recommend it to everyone."