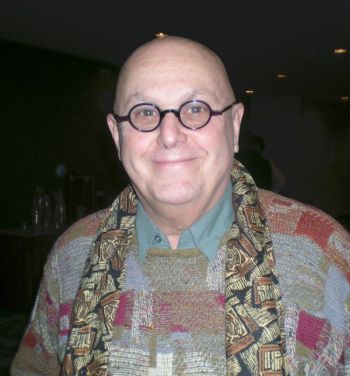 Mr. Pachter at the Divine Performing Arts show Thursday at John Bassett Theatre in Toronto. (The Epoch Times)

(Clearwisdom.net) TORONTO--After seeing his second Divine Performing Arts production, Mr. Pachter, a renowned Canadian painter, found even more depth in the show's vivid imagery.

"When you see it for the second time you see different things," he said.

Mr. Pachter was in the audience Thursday at the John Bassett Theatre for the opening show this season in Toronto. The packed house gave the performers a standing ovation.

"This time I have more time to appreciate the costumes, how beautifully made they are. Somebody did a fabulous job on the sewing of the costumes. Where were they all made? In the States? In New York? They are so well done and they're faithful to the original things that you see in the old Chinese paintings from thousands of years ago."

Mr. Pachter said Divine Performing Arts offered the audience a great mix of art forms that he found very enjoyable.

"It really has the professional qualities of a good Broadway show. It feels like it's a good mix of the music, and the dance and the movement... It's really well done."

Mr. Pachter--one of Canada's top contemporary artists--paints, sculpts, and lectures. He is also a member of the Order of Canada, and a Chevalier of France's Ordre des Arts et des Lettres. His works hang in honored places around the world, including the Canadian Embassy in Washington.

"Some of it is very poignant, very moving," he said, pointing to two of the dances in particular that deal with issues happening in China today. One of those dances tells the tale of a father who is persecuted for practicing Falun Gong. The fantastic scenes that ultimately unfold in this piece present a message of hope and bespeak of a longstanding Chinese belief that good people are ultimately rewarded, even if not in this lifetime.

"In the world today everyone has to deal with this... There's people who are always being attacked. It's part of the sadness of the human condition. All through history there's always the oppressors and the oppressed, and we all know what goes on in [recent Chinese] history."

With an artist's eye for detail, he also complimented the show's innovative animated backdrops, which provide a living scene within which each performance unfolds.

"I thought the whole mixture of the live action performance with the transitions to the [animated] figures, especially in the old folk tales, is just gorgeous. That's like Disney. They should copy them--show Walt Disney how to do it. Very beautiful."

"The production values are very professional, that's the thing that makes it interesting. You should get David Mirvisch to come and see this because if he saw this he would do it at his theater," he said.

David Mirvisch owns and operates four theaters in Toronto.

"Tell him this is the Chinese version of the Sound of Music--a different Sound of Music."

"This is about spiritual values, about personal values that people have that go beyond government and beyond restrictions and beyond all that. It's about personal freedom and developing your own soul, and your own sense of who you are, and being free to be who you want to be. That's what's behind it."

According to the show's program: "The guiding mission of Divine Performing Arts is to rediscover and renew humanity's true, rightful cultural heritage. The company thus creates and performs works that center upon the true, divinely bestowed culture of humankind, and seeks to provide an experience of consummate beauty and goodness."

"Terrific. I thought it was great," said Pachter.

Divine Performing Arts will stage six more shows in Toronto before moving on to Montreal and New York.