Mid-Autumn Spectacular a Cut Above, Patrons Say
September 29, 2008 | By Jason Loftus
September 26, 2008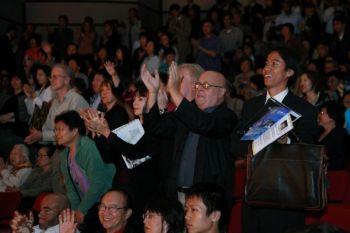 Members of audience give Mid-Autumn Spectacular a standing ovation at the conclusion of the third performance in Toronto. (Victor Chen/The Epoch Times)
TORONTO--Friday night's performance of the Mid-Autumn Spectacular by Divine Performing Arts left more patrons buzzing about caliber and content of this one-of-a-kind show.
"I think about all the live performances that I've seen, and I can't think of anything at the moment that touched me as much as this one," said film producer Leif Bristow, who took in the show with his wife Agnes, a writer, at the John Bassett Theatre.
Mr. Bristow was particularly interested in the choreography and dance. His daughter recently graduated from the National Ballet School of Canada.

"It's fascinating to see the difference in classical and traditional Chinese dance compared to the strict ballet of Europe and North America today," he said. "It's very fascinating because of the way the stories are integrated into it and the way the costumes are used differently than traditional European ballet - I love the show."
Mr. Bristow's film producer credits include the 2003 movie Blizzard, which starred Chistopher Plummer and Whoopi Goldberg.
He says he is now writing a book, and plans to make a movie, about Tia Zhang, one of the choreographers with Divine Performing Arts. He's taken in Divine Performing Arts shows three or four times, he says. And he has seen the show evolve.

"The show tonight was certainly the most spectacular one that I have seen so far," he said.
The show made Wendolyn Lozano, associate editor of the upscale arts, culture, and current affairs Literal Magazine, eager to learn more about the Chinese culture.
"We are enjoying it big time," she said at intermission. "We were just talking about that they really convey not only the dance but their spirituality. It's amazing and we are very surprised."

Toronto banker Frank Martino was beaming after his first visit to a Divine Performing Arts show.

"So upbeat - way to go!" he said on leaving the theatre.

"It was fantastic - the colours, the dancing; the costumes were unique. It was great. I am going to come back every year."

"Perfect, just perfect," he said.

The show was just what Zeres Devera, CIBC Bank Manager, was looking for.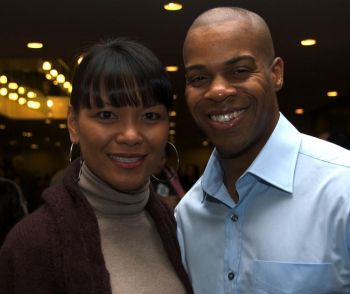 Tony Steele-Philips and Zeres Devera at the Mid-Autumn Spectacular. (The Epoch Times)
"I love the show," said Ms. Devera, who attended with her husband, Tony Steele. "It is exactly what I thought it would be."

Ms. Devera enjoyed comparing classical Chinese dance with the traditional dances of her culture, Filipino.

"This is our first time to something like this so we'll be out to more kinds of things like this in the future," she said.

Meanwhile, Leslie Kimble came from 250 km east, in Kingston, Ontario, where she serves as the city's manager of special events, culture and recreation.

"I think the show is fabulous. This is absolutely unbelievable," she said.

"The feeling of softness and comfort that they all display. I know they work hard, and they are all so beautiful."
Acclaimed artist Charles Patcher praised many aspects of the show - the digital backdrops, a mesmerizing soprano, "subtle" and "lovely" choreography, and "gorgeous" costumes.

Mr. Patcher is an Officer of the Order of Canada and some of his work is now on display at the Royal Ontario Museum.

He was most moved by the program, Lady of the Moon.
"It is very special," he said. "It's a beautiful legend. It has a very nice quality about it; it's spiritual."
http://en.epochtimes.com/n2/arts-entertainment/toronto-mid-autumn-spectacular-4833.html